Blog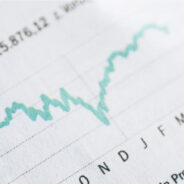 The importance of Social Media Marketing in Financial Industry in 2020 The Financial Industry in 2020 has no reason to doubt that digital marketing, and social media marketing in particular, is a vital trend now and in the future. Putnam Retail Management found 84% of survey respondents use social media for finance industry business. 92% of them said social media has helped them gain new clients. They were unequivocal in their opinion that social media has changed the nature of how they work with and help their clients. The Financial Sector faces its own particular challenges when it comes to digital marketing and social media. Therefore, we know the best practices that will help your business to succeed: 1. Position Yourself as an Industry Expert People more easily buy from experts, which is exactly why top sales professionals invest substantial time and energy in positioning themselves as experts in their field. They don't come across as know-it-alls. Rather, they convey knowledge and expertise in a confident manner. This enhances trust and rapport, allowing customera to feel good about their buying decisions. Here's how you can achieve a position as an expert in the eyes of your prospects and customers. Your digital leadership can foster the sharing of best practices and begin educating practitioners in other departments or regions. As you standardize your education program, consider sharing your experts' insights via podcast streaming services or YouTube, as an example a Canadian Financial Company, Caldwell Securities Ltd., has launched a "One Minute with Thomas S. Caldwell" podcast, providing high-level expertise on investment planning. When a formal system for ongoing social media training comes together, your firm can scale up its social activities more rapidly. An educated workforce isn't just a competitive necessity, but a regulatory one. In 2012, a US state securities regulator issued a deficiency letter to an investment advisory firm, sanctioning the firm for, among other things, failing "to provide sufficient and appropriate training to employees" using Facebook and LinkedIn. While industries such as manufacturing and retail can compete on price and product, financial companies are trying to stay away from that traditional form of marketing. To carve their niche in a highly competitive market, they need to realize that delivering differentiated customer experiences is key. Companies that have already embarked on their digital and social media transformation journeys are seeing 13% to 20% improvements in key benefits gleaned. This includes higher profit margins, improved customer advocacy, and faster customer acquisition rates. Businesses also expect an additional 70% improvement in customer acquisition rate by 2020, underscoring the beneficial outcomes that embracing digital transformation brings to the table. Source: Microsoft News What You Should Be Doing Right Now For B2C: Create infotainment content like memes, comics, video sketches that convey complex financial messages in a short and fun way, relatable to normal B2C customers. Promote content on Facebook, Twitter, Instagram, and YouTube. B2B: Publish white papers on best practices, blog regularly on professional social networks like LinkedIn, produce podcasts, video interviews with important internal stakeholders, and satisfied customers across Spotify, Soundcloud, and LinkedIn. Build a long term digital brand-building strategy and work with a digital marketing agency that can create content your TG would love to see every day. 2. Engage with Your Customers (while reducing expenses) Seeking better customer...
read more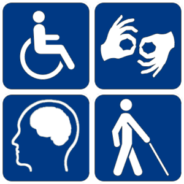 WCAG Compliance: What is WCAG? Which businesses should comply? What Is WCAG? Web Content Accessibility Guidelines (WCAG) explain how to make web content more accessible to people with disabilities. It is developed through the W3C process in cooperation with individuals and organizations around the world. In WCAG documents, web "content" generally refers to the information in a web page or web application, including: natural information such as text, images, and sounds code or markup that defines structure, presentation, etc. Which businesses should comply? Regulations vary depending on the requirements of the country, territory or province.  For Example, In Ontario: By law, you must make new, significantly refreshed public websites accessible if your organization is: a private or non-profit organization with 50+ employees; or a public sector organization The organization controlling the website must meet accessibility requirements. Compliance deadline in Ontario: Beginning January 1, 2014: new public websites, significantly refreshed websites, and any web content posted after January 1, 2012 must meet Web Content Accessibility Guidelines (WCAG) 2.0 Level A Beginning January 1, 2021: all public websites and web content posted after January 1, 2012 must meet WCAG 2.0 Level AA other than criteria 1.2.4 (live captions) and 1.2.5 (pre-recorded audio descriptions)  How to meet WCAG Accessibility Standards? In order to meet the needs of different groups and different situations, three levels of conformance are defined: A (lowest), AA, and AAA (highest). Level A: For Level A conformance (the minimum level of conformance), the Web page satisfies all the Level A Success Criteria, or a conforming alternate version is provided. Level AA: For Level AA conformance, the Web page satisfies all the Level A and Level AA Success Criteria, or a Level AA conforming alternate version is provided. Level AAA: For Level AAA conformance, the Web page satisfies all the Level A, Level AA and Level AAA Success Criteria, or a Level AAA conforming alternate version is provided. Here are some example of solutions for A and AA conformance levels: Level A Guideline 1.1: Provide text alternatives for non-text content Guideline 1.2: Provide alternatives for time-based media A captioned tutorialA video clip shows how to tie a knot. The captions read,"(music)Using rope to tie knots was an important skill for the likes of sailors, soldiers and woodsmen.."From Sample Transcript Formatting by Whit Anderson. A complex legal document contains synchronized media clips for different paragraphs that show a person speaking the contents of the paragraph. Each clip is associated with its corresponding paragraph. No captions are provided for the synchronized media. An instruction manual containing a description of a part and its necessary orientation is accompanied by a synchronized media clip showing the part in its correct orientation. No captions are provided for the synchronized media clip. An orchestra provides captions for videos of performances. In addition to capturing dialog and lyrics verbatim, captions identify non-vocal music by title, movement, composer, and any information that will help the user comprehend the nature of the audio. For instance captions read,"[Orchestral Suite No. 3.2 in D major, BWV 1068, Air] [Johann Sebastian Bach, Composer]♪ Calm melody with a slow tempo ♪" Guideline 1.3: Adaptable content The purpose of this guideline is to ensure that all information is available in a form that can be perceived by all users, for example, spoken...
read more
How does UI/UX Design work for your website? With so many choices, customers have become very selective with who they buy their goods from. That's why companies switched to the customer-centric business model whose end goal is to deliver a smooth and entertaining experience all while keeping it easy, short and focused. Too many clicks eat time that consumers don't have. A heavy, complex flow will drive your potential client away from your website. That's where UI (user interface design) and UX (user experience design) come into play. UX is the technical side aiming to improve usability, navigation and users' flow. It involves a lot of consumer psychology and sociology. On the other hand, UI is responsible for the graphic design that ends with an easy and pleasant to the eye aesthetic, as well as intuitive functionalities. Both aspects work closely together to enhance the user's experiences and are conducive to conversions. How does UI/UX Design help your website? Increased customer loyaltyKey to achieving client loyalty is to offer them personalized experiences crafted to their individual needs and behavior patterns. That's why UX is rather anchored in deep research on your buyer personas' psychology and to gather accurate insights on how your particular audience interact when they're on the lookout for products like yours. Consequently, UI follows the lead. First, it's UX, then UI. Brand consistencyBesides an engaging and personalized user experience, you need to make sure that your visitors always know who they are interacting with. That's why it's important to have a well-defined brand identity that potential customers can relate to and spot among your competitors. Along with the UI's aesthetic elements, the way your brand interacts with them, the UX's user flow is part of that identity. Higher converions ratesGood user experience efficiently navigates potential customers through the buying process in an interactive and intuitive way to their predermined target. Users receive the right information at the right time, ensuring a clear, smooth, logical flow that will help keep them on track. Thus, UX and UI help to engage visitors from the very beginning of their journey with you, avoid losing them down the road and reduce checkout abandoment rate, ending with increased sales. When should you reach out to a UI/UX Design agency? You can always invest in improving your user's experience on your website, but you'll likely want to reach out to an UX/UI design company when: Your visitors complain about their current experience being too complex. You notice that customers leave your site without making a purchase due to poor and unclear experience design and flow. You are not satisfied with your website's KPIs You receive feedback from your customers that they're not pleased with your current website design. Why choose New Design Group? With over a decade of experience, our Toronto-based team can help you set a unique and customized user experience for your website visitors or app users. We delve deep into understanding your buyers and how they interact with you to deliver a sleek user flow that makes sense, looks and feels good, is easy to use and engages customers from the moment they "set foot" in your website or app until they leave. We'll give them what they need to return. If you're interested in finding out more about...
read more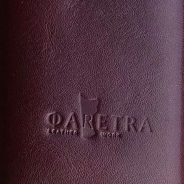 Date 2019 Client Фaretra Industry...
read more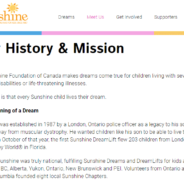 A non profit web design project has a tough challenge to overcome. Unlike websites which offer goods or services in return for cash, a non profit website seeks donations without obvious benefits for the donor. Our previous blog explains how non profits can get started in the world of digital marketing. But beyond these technical requirements, how can you boost your non profit credibility via your website design? 1. About Us For any company website, the About Us section provides background information and attempts to show the company as trustworthy. In the case of non profits, it's an important section to focus on. It must describe the mission and history of the organisation, how it operates (Board of Directors and volunteer information), its charitable registration number and any other organizations it works with. The more factual data included in the About Us section, the more new website visitors are going to trust you. 2. Images Of Those You Help Nothing gives more credibility to an organisation than images showing its achievements.  Use photos on your website of those you help to show what you achieve with donations. Furthermore photos which tug at the heartstrings are likely to encourage more people to donate. 3. Images Of Staff In Action Include images of your staff working on the cause you support in your non profit web design.  Save The Children provides an excellent example – the President and CEO is featured with children the organization helps. This indicates that staff involvement in projects is valued from the top down, and donors will feel reassured that their money is being used for hands-on help. 5. Video Testimonials Encourage people who have benefited from your non profit organization to share their story on your website – preferably as video which is popular, easy to consume and easy to share. To boost credibility, your videos must be filmed and edited by a professional: a few quality videos will have a greater, positive impact than numerous amateur films, complete with handshake and poor lighting. 6. Blogs Write informative blogs about specific case studies, event attendance and fund raising initiatives.  Tell people if you are partnering with other organizations to further the cause you support.  Whatever proactive activities you undertake, make sure your donors know about them by including a blog in your non profit web design. 7.  Partner Logos If you have long term funders and sponsors, display their logos on your website.  They will gain exposure; you will gain more credibility by being associated with them. 7. Press Releases Every non profit issues press releases in the hope of getting media coverage.  Include them on your website – another way to demonstrate what you are doing with the money your donors so kindly donate. 8. Media Coverage Share any media coverage on your website. If a newspaper thinks your non profit is worthy of column inches, then make sure your donors know. Include a link to the online newspaper or share a screenshot of the printed version. If you get coverage via TV or radio, request a link to the news item to share on your site 9. Accountability Donors need to understand where you spend their...
read more
Digital marketing for financial companies is essential to attract new clients and compete with digital-savvy start ups whose slick online customer experience appeals to younger people. The traditional financial sector lags behind fast paced changes in the digital world. Many companies miss opportunities for client acquisition and retention.  When it comes to digital marketing for financial companies, there are fundamental to be followed 1. Appreciate The Need For Digital Marketing The financial industry is heavily regulated with rigid organizational structures making it slow to adapt to digital advances. The 2017 Digital Trends in Financial Services and Insurance report*  found that only 9% of financial services and insurance organisations claim to be digital-first. New financial brands put digital marketing at the top of their agenda. Established financial companies must now take digital marketing seriously.  They must: understand what digital marketing is and how it helps businesses meet their objectives realise that digital marketing specialists are needed to get best returns on investment assign a useful budget to digital marketing activities 2. Have A Digital Marketing Strategy Once a financial organization decides to up its game in the world of digital marketing, it needs well-defined digital marketing strategies. There's no point in having a Twitter account or posting videos on YouTube and hoping for the best. A strategy must address these areas: 2.1  Website Is the website professionally designed to current standards? Are the company's services clearly described on the homepage? Is the website fast to load and easy to navigate on both desktop and mobile? Is the website optimised for the search engines using the best on-page SEO techniques? 2.2 Content Marketing Is the company creating regular content in the form of videos, blogs and/or podcasts? Is content being shared on appropriate channels? Is the company investigating ways to get its content shared via guest blogging or video interview opportunities? 2.3  Social Media Has the company built a strong social media presence on relevant channels? Has the company allocated sufficient time to social media activities in order to increase engagement and reach out to potential clients? 2.4 Paid Advertising Is the company investing in paid digital advertising, for example Facebook ads or Google Adwords? Has the company designed a remarketing strategy to reach out to website visitors who have never purchased? 2.5 Customer Retention Does the company send clients eNewsletters and personalised emails as part of a customer retention strategy? Using digital marketing specialists to define a marketing strategy, the business is clear about what needs to be done, and allocates the budget required to implement it. 3. Put The Customer Experience First It's no longer just about the products you sell, client experience is now just as important. Customers have higher expectations than ever before.  Potential new clients expect: a fast-loading, professional website to find what they want on the site, as quickly as possible a rapid response to questions, whether submitted via email, website or social media Existing clients interact with a financial website to check relevant information, for example checking performance of their portfolio or the stock markets. They do not want delays or need to speak to someone. They'll expect this on their smartphones as well as on their desktops.  A financial company website must have functionality that allows customers to achieve what they want,...
read more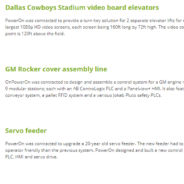 If you're not using case studies as part of your manufacturing company advertising, you're missing a powerful opportunity to showcase your work and build credibility in your brand. When a company seeks the best provider of their needs, they go online to discover available products and uncover manufacturers' reputations according to previous clients. Rather than letting potential clients trawl the internet looking for reviews of your company, be proactive. Flaunt your success stories as case studies in your manufacturing company advertising.  The Advantages of Using Case Studies In Your Manufacturing Company Advertising It's easy for potential clients to learn more about your completed projects You have some control over which reviews your prospects see You can demonstrate your expertise with visuals and text Customer testimonials support your claims How To Use Case Studies In Your Manufacturing Company Advertising There is a wide range of ways case studies promote your brand and show its credibility. 1. Website Case Studies Create a section for case studies that detail completed projects. Describing the customer's problem and your solution gives readers good insight into your capabilities. Use visuals of project progress and/or completion, showing exactly how your products work. 2. Client Testimonials Supplement your case studies with client testimonials. Ask clients for video testimonials telling how happy they are with your service and quality of work. Video is easy to consume and can be very persuasive because the complimentary words come directly from the client 3. Customer Logos Ask satisfied clients if you can display their logo on your website. They're unlikely to say no as they will benefit from additional online exposure. Feature the logos on the footer or a sidebar. Website visitors get an immediate visual message of companies that use your products, and may help persuade them to contact you. If you create manufacturing company advertising campaigns with a dedicated landing page, prominently feature your customer logos there.  Customer endorsements can persuade a hesitant purchaser to go ahead and submit that online form. 4. Website Blogs Consider using your case studies as longer blog articles on your website. You can go into more depth about projects, how you addressed them, how long they took, and the successful outcomes. Ideally, you'll have a range of images to supplement the texts. Of course, by optimising articles for specific keywords, you improve the chances of ranking well in organic results listings. 5. Brochures Feature one or two selected case studies in printed brochures. Use quality visuals, describe the problem and your solution, and include a client testimonial. Readers will understand more about the products you manufacture and how they are used in practice. 6. Sales Staff Ensure your sales staff are fully versed in your case studies.  Clients in a specific industry may be more likely to purchase from you if they know you have a proven track record in the same industry.  Sales staff should use example case studies to explain how your product can work for their clients. 7. Events At trade shows, use your case studies in your marketing materials. Use visuals of completed projects in your backdrop or pop up; include overviews of selected case studies in your printed handouts. Your newest contacts will leave the show with a better understanding of what you do that satisfies...
read more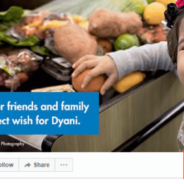 Facebook for non profit organizations is a highly effective marketing tool which won't blow your marketing budget. Facebook is committed to helping non profits and is rolling out new ways to directly connect and collect contributions on Facebook. Now is the best time to use Facebook for your non profit organization. Here are the main reasons why Facebook for non profit organizations is a must. Why is Facebook so useful for non profits? Facebook is the most popular social network in the world, with over 2 billion monthly active users (as of June 2017*).  That's an awful lot of people who could be interested in your cause. Setting up a business page is free and easy to do.  With a great header image and your logo, the page can be easily branded. You can add your contact details and a summary overview to concisely explain the objectives of your non profit. If you have a mobile app, you can add it to page for your followers to download. You can add a "donate now" button to enable visitors to make a donation. Each time someone makes a donation, Facebook encourages them to share and invite their friends.  Any shares contain a "donate" button so others can donate directly from their newsfeed. Posting on Facebook costs nothing (apart from your time). Unlike Twitter with its limit of 140 characters, you can add as much or as little text as you wish with each post. It's easy to upload images and videos to your posts – a great way to call attention to each one and encourage people to read them. You can drive traffic to your website by including a link in your posts. You can share a wide variety of  information: your events, your staff, your success stories. Facebook offers the perfect opportunity to show the personal side of your non profit; something that cannot be achieved so simply on your website. You can broadcast live on Facebook. For example film an important event and share with your fans in real time. People who wish to raise funds for your non profit can set up their own dedicated fundraiser page – you can then link to it from the non profit page. Example Fundraiser Page: Example of fundraiser pages linked to the non profit page: You can create events and invite your fans to attend. Facebook for non profit organizations is a invaluable tool. By posting regularly and harnessing the power of the new tools Facebook is introducing, you can spread the word about your cause, and encourage people to donate or raise funds on your behalf. * source https://zephoria.com/top-15-valuable-facebook-statistics/...
read more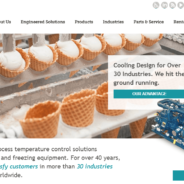 Your manufacturing company web design is more important than you think.  Some B2B businesses feel it's more important to personally network to win contracts, but today's digitally-connected world is proving them wrong. Manufacturers of retail products learned long ago that a good quality, appealing website is a must. Even if you manufacture visually uninteresting items such as spare parts for washing machines, your leading competitors will have professional photography and web design that show the final products as works of art. Why Is Your Manufacturing Company Web Design So Important? Personal networking will always be the vital sales component it has always been, but digital technology – the most powerful communication tool yet – greatly multiplies the advantages of all personal interaction, including networking. Technology also simplifies business logistics. Companies looking for suppliers – your company, perhaps – are doing their homework online right now. In fact, they are actively trying to find you but you have to be there to be found, and the sole purpose of professional web design is to make you visible and engaging online. Manufacturing Company Web Design – First Impressions The first thing your potential customers do, even if your manufacturing company has been recommended to them, is visit your website.  If it doesn't effectively deliver your message and appear professionally designed, then you've lost the power of a top-quality first impression. Once lost, good first impressions cannot be regained and second impressions – if you get the chance to make them – will never be as powerful in supporting your awareness and sales goals. Manufacturing Company Web Design – Some Great Examples This manufacturing company website creates a great first impression: Fully branded – in terms of logo, company name and consistent colour palette Business – it's crystal clear that this manufacuturer provides industrial temperature control solutions Main image – high impact; you can almost feel the chill factor! USP – a company with extensive experience in terms of years, global reach and number of industry types OVERALL – A modern website, great use of colours, eye-catching images and clear messages, all visible above the fold. A different design, but also one which makes a great first impression: Fully branded – in terms of logo, company name and use of the brand green colour as the background for the warranty offer Business – there's no doubt that this manufacturer sells pools and spa covers Main image – shows the company's skill effortlessly: the cover fits the unusual shape of this pool perfectly USP – this company is so confident of its products that it offers a 20 year warrantly OVERALL – A modern, uncluttered design to showcase the product and the incentive to buy – the 20 year warranty. This web design looks dated: the page isn't full width, the images don't complement one another, and the three clickable buttons look large and clunky. Fully branded – the logo and company name (which we have hidden) are shown, but the maroon colour of the logo is not used elsewhere Business – is it a supplier of ladies' hats?  Even the top image fails to show that this is a pool cover business. Only by reading the text can you understand what this company offers. USP – there's...
read more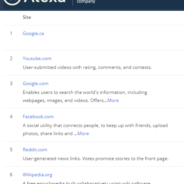 Digital marketing for investment companies is an important way to generate new business. You may have hired a digital marketing agency to work on your behalf and are delighted to see more website contact forms being submitted. But wouldn't it be good to really understand what aspect of your digital marketing is working for you?  And even better to fully understand any reports the agency so helpfully provide each month? We're sharing some great free tools and insider tips to help you better understand the strength of your online presence and which marketing techniques are driving most business your way. Digital Marketing For Investment Companies – Top Tools And Tips 1. Alexa Ranking The Alexa rank of a website is based on the amount of traffic it has – the lower the ranking the better.  The top websites in Canada according to Alexa are: A general rule of thumb is that a ranking below 100,000 means a website has quite heavy traffic.  It's simple to test your site, and that of your competitors.  Simple add the Alexa extension to Chrome and click on it when you visit a website. Here's an example for wealthsimple.com – ranking very well both worldwide and in Canada, and with 128 sites linking back to their website (an important ranking factor). 2. Website Loading Speed The speed at which your website loads is a ranking factor – so the faster the better is essential.  Check and see how well your site is performing using one of the free programs, such as Google's PageSpeed Insights. You'll receive feedback on both mobile and desktop performance with a list of recommendations for improvement – which you should discuss with your web developer without delay! 3. Keyword Ranking If you've been using digital marketing for investment companies to try to improve your website ranking for specific keywords, see how well you are doing using the SERPs rank checker. Pop in the keyword, the domain name and the search engine location, and you'll get your feedback. Alternatively leave the domain name blank and see which websites rank well: 4. Google Analytics Without a doubt, Google Analytics is the most important tool to use for assessing the effectiveness of digital marketing for investment companies. You can see at a glance the summary traffic data for any given time period – sessions, users, session duration etc. You can find out more about your visitors – their country/city, language, age and gender, and you can track changes in traffic over time. There are three other important metrics to look at when assessing the effectiveness of your digital marketing.  4.1  Conversions  It's imperative to measure conversions on your website.  These goals may be a simple as a contact us form submission, or the download of a guide from your site.  Once the goals are set up in Google Analytics you can monitor the number of goals completed  and the source of these completed goals eg. google / organic google/ cpc bing /organic bing / cpc yahoo /organic com /referral com / referral com /referral plus any goals completed by visitors from referring websites.   4.2  Acquisition Where exactly are your website visitors coming from?  The acquisition report shows exactly where. Organic – people have typed in search words relevant...
read more