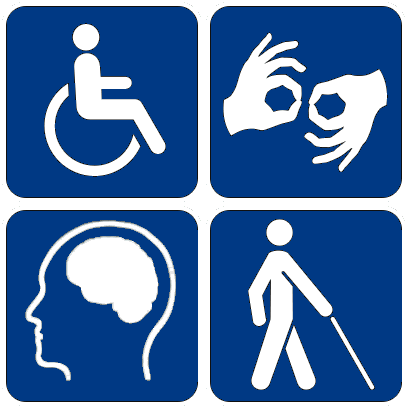 If you have a company that operates out of Ontario, it is mandatory to comply with AODA:  the Accessibility For Ontarians with Disability Act.  This law was passed to ensure that people with disabilities face no barriers with regards to accessing activities and opportunities.  And this law covers websites.  As more reliance is placed on the world wide web to source information, AODA recognises that disabled people should be able to access information as easily as others. The AODA Website Content and Accessibility Guideline (WCAG) explains how companies can achieve a website that is accessible to all, regardless of any physical disability they may have.
WCAG outlines four main principles of creating an accessible website:
Perceivable:  so users can perceive the information displayed
Operable: the user must be able to operate the interface
Understandable: users must be able to understand the information
Robust: even as technology advances, the website content must remain accessible
Interestingly these are sound principles and should apply to every single website.  So before you start to fret about the website alterations you need to implement to comply with AODA, appreciate that a website which is more accessible and user-friendly for those with a disability, will also be more accessible and user-friendly to all.  And by implementing any necessary changes, you will be expanding the number of people who can view and interact with your website.
AODA has been mandatory since 1 January 2012 for private companies and failure to comply can result in hefty fines – upto $100,000 per day for corporations!  So without further ado, let's look at the main areas of WCAG:
Text Alternatives: for non-text sections, provide alternatives such as larger font, simpler language, symbols or audio descriptions.
Time-based Media: if you have video content, provide audio-only versions.  For audio commentary, provide a text back-up.
Adaptable: ensure the website adapts to the user's capabilities.  This can be achieved by presenting the information in a simpler layout while retaining the same content and structure.
Distinguishable: don't use a font size lower than 14 points and provide good contrast between the text and background for easier reading.  Avoid fancy fonts that might make reading difficult, and make links and controls highly visible.
Keyboard Accessible: your website must be operable using a keyboard alone.  This is very important for users with reduced motor skills who struggle to manoeuvre a mouse accurately.
Enough Time: rotating banners and images may look nice but can be problematic for those with reading disabilities.  Allow users to delay the time on this feature, or turn it off completely by simply clicking a button.
Seizures: any flashy element that can cause seizures is not allowed.  If you want flashing areas, make them small and ensure the flash frequency is less than three per second.  Your visitors need to be safe on your site.
Navigable: the navigation of your website should be logical and simple.  Make links stand out and reduce the number on any one page to ensure the user doesn't feel lost in a maze.  They need to intuitively find their way to the information they are seeking.
Readable:  use common and easily understood language. Avoid foreign phrases or complicated paragraphs.  Break up chunks of text with bullet points and underlined headers.  Avoid placing text over patterned backgrounds which makes it much harder to read.
Predictable: your website should behave predictably.  Always keep your navigation bar in the same place and if a link will open a new window, users should be notified in advance.
Input Assistance: when a user needs to complete a form, make it simple for them.  Provide guidance on how to complete each section.  If a field is completed incorrectly give feedback and inform the user how to correct the error.
Compatibility:  your website must be compatible with assistive technology equipment, such as screen readers and assistive software which might be used by people with disabilities.
The above points will make your website more accessible to all.  By using simple language, clear layout and intuitive navigation, all users will find browsing your website a pleasant experience.  It's easy to be seduced by the idea of having a website stuffed full of great content, with rotating banners and flashing images, and layers of pages – but ultimately this makes the website complicated for all but the creator.
Aim for a clear, concise and user-friendly web design and you will be well on your way to complying with AODA.  And then fine tuning is all that you will need to ensure your website is fully compliant.  And remember, compliance with AODA is not optional – it is already a mandatory requirement.