First impressions are everything in business and it's been years since the website has replaced the business card as your front end marketing tool. If you've already been down this cyberspace road before and are looking to upgrade your manufacturing website design, we offer comprehensive professional services to increase your bottom line.
If you're lagging behind the times and this is your first website, all the more reason to let us craft and mould a captivating user experience.
Everyone in business has an angle: We can help define yours.
Yesterday's business cards and brochures were static. Today's modern website is a dynamic tool that works to put you in touch with your customers on an interactive basis that is constantly evolving. That's all the more reason to make sure you have a clear picture of your message and have refreshed and redefined your angle before we start.
Making sure that you stand front and center in the busy crowded world of your online target market means letting us build a website around your unique value proposition. What makes your company different and unique doesn't change because the medium has changed but explaining the benefits of doing business with you could shuffle the order of your webpages.
That's just one area where we excel when it comes to manufacturing website design. At the New Design Group , our award-winning team of innovative professionals have experience with companies across many different verticals of the business world.
We understand the evolution of today's client. Whether you require a calculator to include custom quotes, online professional catalogs, detailed explanations of processes and product descriptions or anything and everything in between, we have the experts that can provide the tools that work.
Steering the design with excellent navigation.
Websites for manufacturing companies need to get visitors from point A to point B in a direct and clear manner. Prospects need to be able to get to where they can find the information that will help them to make the right decision. Once again, we can help by placing a variety of different arrows in your quiver that include accessible navigation options that are unobtrusive.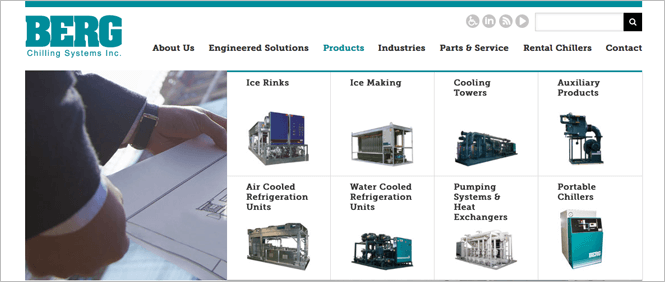 Berg Chilling Systems – A Customised Website for Improved Conversions

Good manufacturing website design opens doors for your business by putting you in front of those B2B desktop and mobile customers who stay on the cutting edge of innovation. Call us for a free estimate at 647-271-7463 or simply fill out the convenient online form so we can get to work enhancing your brand and increasing your sales today.