Liberal Ontario. Don Valley West PLA.
The Background
The Don Valley West Provincial Liberal Association is a political association whose mandate is to represent the interests of all residents of Ontario and make the riding a better place to live and work in.  It aims to promote Liberal principles and also to improve communication between members, MPPs and the Ontario Liberal Party.
A fundamental requirement of any political association is to attract more voters by getting its key messages out to the public effectively as possible.  Don Valley West Provincial Liberal Association hired New Design Group to redesign their website and to create a social media presence on Facebook.
The Challenge
A political party must have an attractive website which shows the organisation as professional and organised, and sells its key messages and promises to the website visitor.  To engage with its voters, a strong presence on social media is also an important tool.  It allows the party to engage with its voters by providing regular updates about its behind-the-scenes work and to continually reinforce its objectives.
New Design Group met with the association to review the existing website and to discuss the key messages that the party wanted to impart to its supporters and potential supporters alike via the website and its new Facebook page.
The Solution
Firstly New Design Group modified the party's logo by balancing the size of the eye-catching capital 'L' and the words 'Liberal Ontario'. This resulted in a scalable logo ie. one which would be readable and recognizable when used at a minimum size as well as when used on a large backdrop at a political rally.
The website redesign focused on making a bigger and bolder banner section with a selection of colourful, eye-catching images featuring Kathleen Wynne MPP in various situations and overlaid with a large image of Kathleen.  And right in the middle of the top banner is a bold red clickable link entitled 'Our Message'.  This design allows the website visitor to immediately see what activities the party are involved in, who is the person leading the party and the key message.
This political party website redesign retained the grid layout seen in the original, but with a less cluttered visual appearance.  The inclusions of videos of Kathleen are also an important addition which allow the website visitor to feel they are getting to know the main person driving the party forward.
To maintain brand consistency, the Facebook page was created with a composite banner image almost identical to that of the website redesign.  New Design Group now manage this page and with regular posts about Kathleen and the party's activities, the Don Valley West Provincial Liberal Association has a professional and engaging Facebook page to keep its supporters up to date with all that it is doing.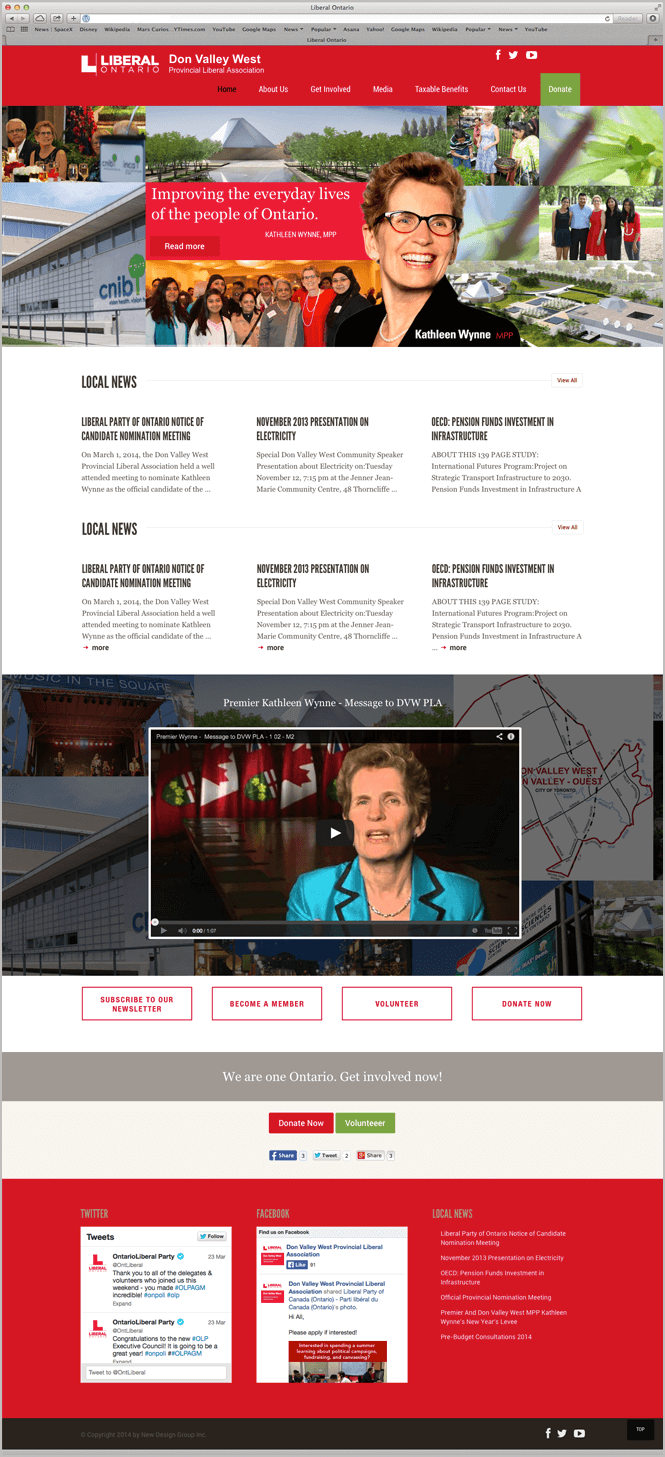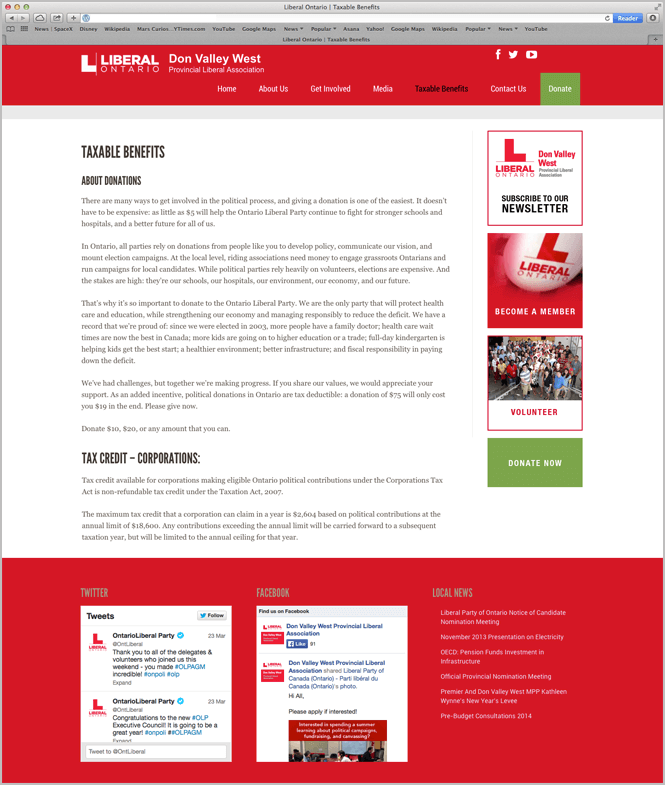 Date
2014
Client
Ontario Liberal Party
Brand
Don Valley West Provincial Liberal Association
Industry
Political
Capability
Website design