Just Ducky Yonge Kids. Logo and Mascot Development. Brochures. Signs and Website Design. Case Study.
The Objective: Just Ducky Yonge Kids came to us in 2006 looking to attract local preschool children and their parents in the Yonge and Lawrence neighbourhood. Nancy Schmeler, the founder of Just Ducky Yonge Kids, wanted to build the leading Indoor Playground and Entertainment Centre in Toronto and realized that an eye catching, bright and playful brand identity was needed to accomplish her goal.
The Challenge: New Design Group Inc. had to design a character that would represent the Just Ducky Yonge Kids brand. How do you create a character that conjures images of fun and creativity to the preschoolers all the while triggering images of safety and fitness to their parents? Just Ducky Yonge Kids needed a mascot that could represent all of the different programs they had to offer, ranging from martial arts, cooking classes and fairy princess tea parties to pre and post natal fitness and yoga classes for the parents. A recognizable and cohesive brand identity was necessary to showcase all that Just Ducky Yonge Kids had to offer their clients.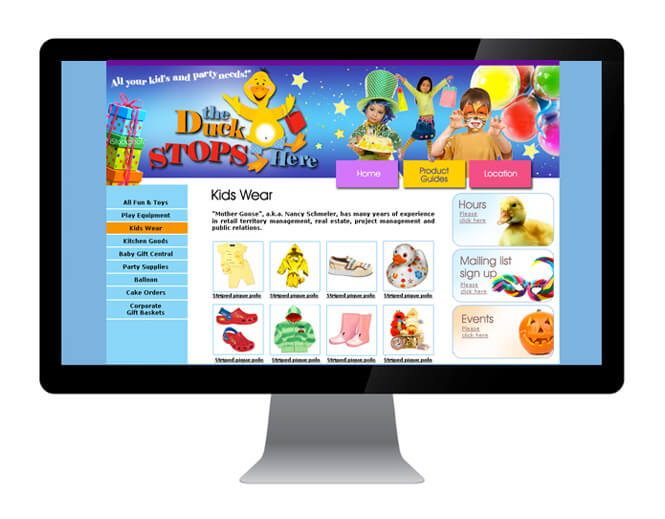 The Solution: The Just Ducky Yonge Kids mascot was designed keeping in mind that this image had multiple purposes and would be showcased in many different ways. It was appropriate for all marketing materials – the logo was featured on flyers, outdoor signs and brochures. Just Ducky postcards were sent out and newsletters were designed showcasing their mascot proudly. Residents of the Yonge and Lawrence area frequently see the "Duck Truck" and instantly think of a safe, clean, and bright environment where preschoolers can be creative and develop their skills. The Just Ducky Yonge Kids website was designed to be easily navigated and engaging for all ages and includes an online shopping cart so that parents can purchase their favourite Just Ducky Yonge Kids products from the comfort of their own home.
Date
2007
Client
Just Ducky Yonge Kids Inc.
Brand
Just Ducky.
Industry
Kids
Scope
Character Design
Logo
Promo Materials
Website