Design for Construction Contractors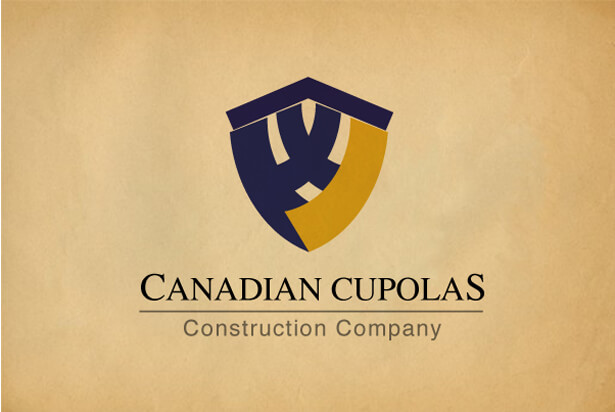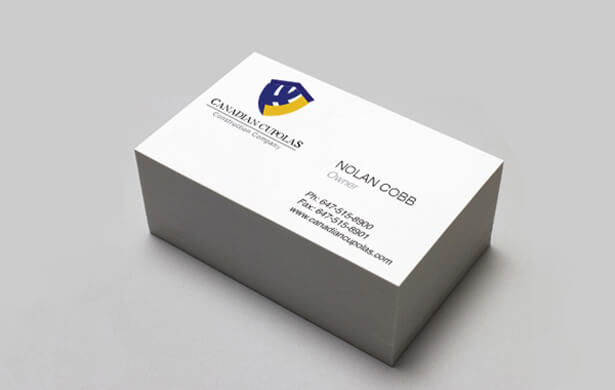 Alu-Gutter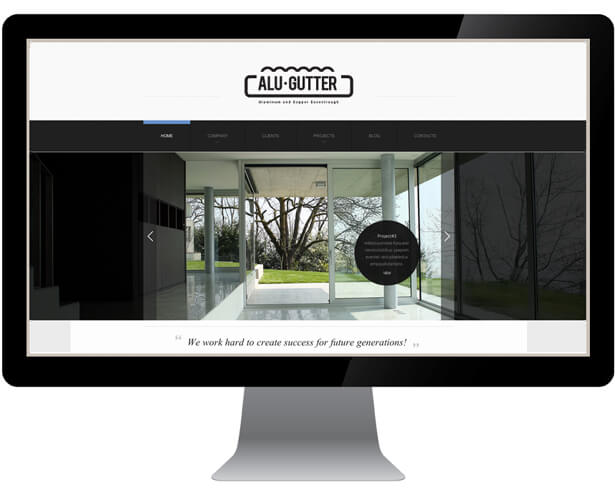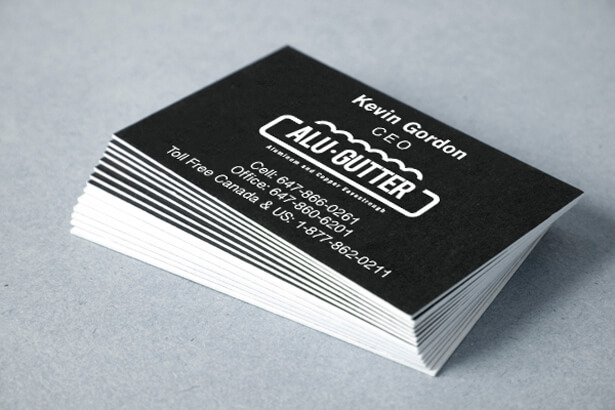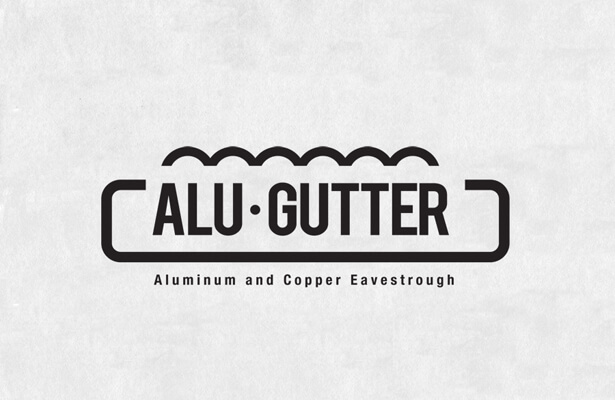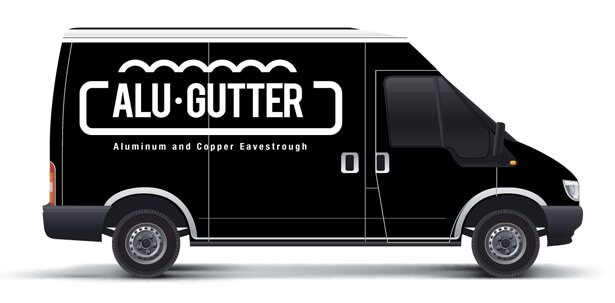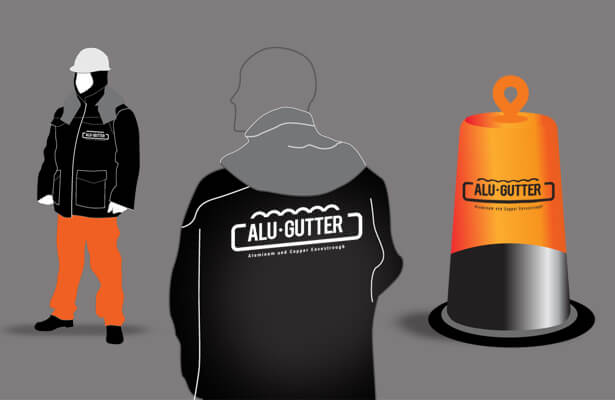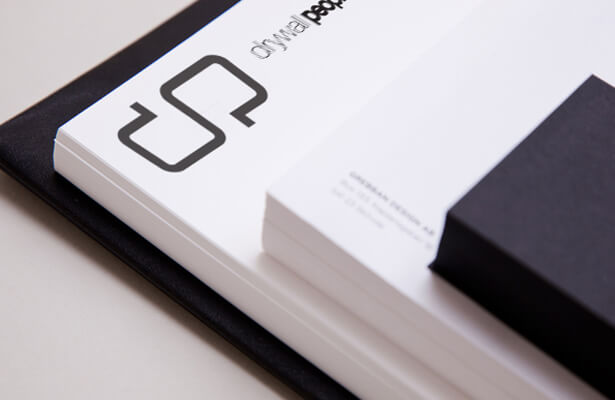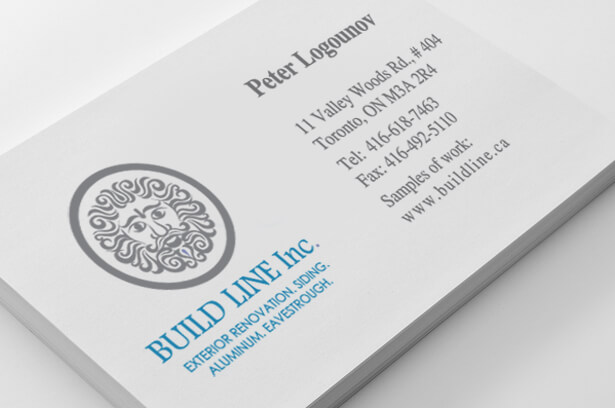 Bulldozing Your Way to Success – Essential Branding Tips for Construction Companies in Ontario
Having read our previous article 'Start-Ups:  Where Do You Think You Are Going?' you should be clear about where you intend to pitch your construction company based on your services and associated target market – whether you are aiming to be the best builder of dream homes or the most sought after renovation specialist.
You may already appreciate the need for a strong, focused brand and an enticing company website, but here is a comprehensive overview of great branding tips which will ensure your Ontario construction company start-up can successfully bulldoze its way to owning a large share of the market.
1.     Logo
Your company logo should be bold, uncomplicated and memorable.  It should be relevant to your business and should also be scalable – simply meaning that it will look just as good and eye-catching when it is printed on corporate stationery, shown on the website, or when it appears on staff uniforms, signage and as part of your vehicle livery.  Make sure your company logo is professionally designed.
2.     Business Cards
You need professionally designed and printed business cards to hand to new clients to give the right first impression about your business.  As a minimum they should include the company name, logo and contact details and also a short sentence that summarizes your services.  To gain trust with clients, list your credentials to reassure them – such as your insurance, bonding, certifications or membership of the Better Business Bureau.   It may sound like a lot to fit on one small card, but a graphic designer can get the perfect look – and don't forget that business cards can be printed on both sides!
3.     Capabilities Brochure
A capabilities brochure summarizes your core competencies and competitive advantages.  It can be given to potential customers, investors and suppliers to explain why they should conduct business with you.  A professional design with well thought out content will ensure it enhances your company's reputation and will lead to better brand recognition.  It should include:
Services provided
Information about your staff and their qualifications and experience
Portfolio of completed projects
Client list
Annual sales or projected sales information
Insurance cover
Workplace Safety and Insurance Board (WSIB) registration
Fee structure statement (contractual, retainer, fixed fee etc)
4.     Website
A professionally designed website is a must for any company that wants to be taken seriously.  Here are some key points to cover off specifically for a construction company:
Ensure the homepage clearly defines your services, is memorable and includes stylish visuals to match your offerings.
Add photo galleries from completed projects to showcase your work.
Add blogs and articles to keep visitors interested.  Blogs can be informal and can be used to update your readers on relevant construction news or opinions on topics; articles tend to be more informative and detailed.  Either way, by incorporating specific keywords into all, they can help with search engine optimization so that the website search engine rankings improve.
Make sure your website has an easy to use Content Management System (CMS) so you can upload more photos, articles and blogs at will.
Request testimonials from your clients and add them to your website.  Create a dedicated area where you can display them all and don't be afraid to bring the best ones to the forefront – in fact many companies understand the importance of third party recommendations and display the very best client testimonial proudly on the homepage.
The Call to Action steps must be highly visible – make it as easy as possible for interested clients to contact you for a quote, normally by using an email 'Contact Us' form which captures the client's contact details.
Add social media sharing options on each page and on each photo.
5.     Social Media Presence
The social media phenomenon is attractive to companies because it offers a real potential to expand awareness of your company brand.  Simply by creating a company presence on selected social media sites and encouraging the interaction of your fans, you may see your information being shared far and wide.
There are so many social media websites to choose from to promote your construction company that you may feel slightly overwhelmed.  Focus on these main ones which all have advantages for your industry.
Facebook is still king of the social media jungle.  Over 50% of all Canadians use this social media website.  It's easy to set up a company profile page with a signature photo and some background information – and then you can just get posting.  Posts should always be interesting, offer food for thought and those with a photo get more attention.  Use photos of completed projects, share your opinions on current industry news and throw in some handy tips for your readers.  The more interesting the post, the more likes, shares and comments you will get – resulting in increased brand exposure.
Pinterest is the fastest growing website in the world.  It's all about images and is a fantastic medium to showcase your completed construction projects.  You can simply pin a photo onto a virtual board which then links back to your website.  When viewers like a pin, they can re-pin it onto another board, like or comment on it.  Again sharing is the key to improving brand exposure.
 LinkedIn has over 200 million members.  It started out as a professional networking website and has morphed into a social media channel with real potential for B2C marketing.  A company profile can easily be set up and posts can be shared, liked and commented on.  The advantage of using both Facebook and LinkedIn for marketing your construction company is that they have a different user profile:  LinkedIn users tend to be older and hold college degrees; Facebook users are slightly younger and are from a variety of educational backgrounds.
YouTube is the world's favorite video sharing website.  This makes it a great platform to advertise what your company can achieve by creating short videos of your completed projects.  They don't need to be professionally created – just well thought out and shot with a steady hand.   You can create presentations in video format including static images of your projects.  You may choose to prepare some advisory videos – handy hints and tips relating to your business.  By creating a branded YouTube channel you can upload all your videos into one channel, again helping to spread brand recognition.
6.     Networking
Networking costs next to nothing apart from time and determination.  But don't underestimate its power.  To operate a successful construction company you need to network as far and wide as possible.  Here are some great ideas on how to achieve just that:
Join the Toronto Construction Association which promotes the highest possible standards in the construction arena and now has more than 2200 member companies.  By connecting with other professionals you can build up your relationships and may well discover new business opportunities such as getting taken on as a subcontractor by larger or more established companies.
Contact larger general contractor and architectural firms to introduce your company by email or phone.  By establishing these kinds of connections you may get an opportunity to bid on their own projects.
Attend relevant exhibitions.  For example, Construct Canada is the country's largest building and construction show and offers a host of networking and marketing opportunities for those in the construction business.
7.     Press Releases
Create a reasonable list of media that you want to target.  Include local newspapers and niche magazines which include articles relevant to your business and then check out their websites to track down the editor's contact details.  By writing a punchy, informative press release that has a newsworthy angle, one of the publications may do a write up on your company.  However there is never any guarantee they will run with it so also consider offering selected publications an exclusive offer for their readers – sometimes this helps to cinch the deal.
8.     Apply for BBB Accreditation
Many consumers consult BBB (Better Business Bureau) to help choose between businesses.  Those who have a BBB rating are known to be safe, reliable and trustworthy, and with a commitment to resolve any customer complaints quickly and with integrity.  These are all very important considerations for clients who require construction/renovations so working towards BBB accreditation is a very sensible step for your company.
9.     Get Reviews on Contractor Websites
Join HomeStars and Handy Canadian and ask your satisfied clients to rate you.  These are great websites where homeowners can rate contractors to help others make better informed choices.  By getting plenty of good ratings your business will be chosen in preference to others.  But keep an eye on those reviews – and respond to any negative customer feedback in a professional and diplomatic way.
10.  Advertise via Lawn Signs
Have professional lawn signs created that you can display outside the venue where your crew is currently working.  These temporary signs need to clearly state your company name, logo and full contact details.  You never know – someone who passes by may see the work in progress and may jot down your company details and give you a call for a quote.
11.  Advertise Online for Free
Place a free classified ad in the Services / Skilled trades section of both Kijiji and Craigslist.  There is plenty of room for text so list the services you offer and add some eye catching photos.  The only disadvantage is that because so many people use these websites, you will need to regularly renew the adverts – once or twice a day – so they don't get buried under all the rest.  But free advertising is free advertising!
Also make sure your company is listed on all the free directories such as Google, Bing, Yelp and Yellow Pages.  Add a brief description of the company along with the contact details.  Easy to do and not too time consuming.
12.  Set Up Paid Advertising Campaigns
Traditional adverts in local newspapers can work really well for construction companies as some people prefer to browse through the newspapers to find contractors rather than search online.  Simple bold adverts can work well if budget is an issue.  Ideally a run of adverts will be more effective than just a one-off in a single edition.
Google Adword campaigns are designed to drive targeted traffic to your website.  When someone searches on Google, adverts where keywords match the search terms will appear at the top of the page as a sponsored link.   If the searcher likes what they see, they will click on your advert and land on your website.  The good news is that you only pay per click.  However there are a couple of words of warning about Google pay-per-click advertising:
You don't want lots of people to click on your advert if they aren't looking for what you are offering.  The Adword headline and description must be carefully worded to ensure it is specific and so only customers who really want your services click through to your website.
You can quickly run up a big bill if the campaign is not managed properly.  Set a daily maximum limit of say $5 and keep reviewing click throughs and conversion rates to see if the campaign is effective. 
You may think that you can tackle all of these branding approaches alone.  Well sorry to disappoint but it's highly unlikely that you will have the time and expertise to implement them efficiently and professionally.  Stay focused on operational issues and networking, and bring in a talented brand development company to sort out the rest.  It will always be more cost effective and you will see a far better return on investment if you bring in the professionals to work alongside you.
Furthermore the professionals know how to constantly review the success of the branding plan by checking Google Analytics to see how many visitors are coming to your website, seeing if your LinkedIn account is driving traffic to your website and tweaking your pay-per-click campaign to make it more effective… amongst many other things.
So if you want your Ontario construction company to bulldoze its way to success, follow the great branding tips above, keep monitoring your results and never be afraid to slightly alter course if results dictate that's what is required.