Red Dot Award: Design Concept 2013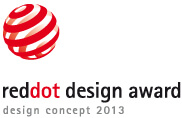 The standard submission period for this prestigious award may have closed on April 17th but all is not lost.  Budding and established designers can still submit their design concept up until June 19th, although only in English.
A level playing field for all
If you are a design student, established freelancer, university or design studio, get your application ready.  The Red Dot Award accepts entries from everyone, and furthermore each is judged totally and utterly on its own merits – during the adjudication process the jury has no idea about the background of the participant.
History
The Red Dot Award has been in existence since 1955 and has expanded over the years.  In 2012 it received more than 15,000 entries from 70 countries. It's a huge competition but someone has to win!  If you are interested in entering one of the world's best known design award competitions, then get your application finalized.
Winners
Winners of a Red Dot Award will get plenty of recognition worldwide.  It is an endorsement of your design innovation and skills and tells the rest of the world about your strong capabilities, promoting your name or your company name and increasing brand value.  In addition the winning designs are exhibited at the Red Dot Design Museum in Singapore for a year, and there are online exhibitions, travelling exhibitions and plenty of media attention.  It really is a highly coveted prize to win.
Categories
For 2013 there are a number of concept categories including new-for-2013:  Interaction (such as user interfaces and digital games), Skin (packaging or product surface), and Service (bringing benefits to the use of a product, space or service), in addition to previously established categories: Energy, Green, Habitat, Illumination, Fashion and Workplace amongst others.
The Red Dot Award is prestigious, open to everyone and the winners are assured of excellent publicity around the world.  If you believe you have the design concept skills to make the judges sit up and take notice of your work, then submit your application soon.  For more information about the award, check out the red dot award website.