Manufacturing Company Web Design – First Impressions Count
Your manufacturing company web design is more important than you think.  Some B2B businesses feel it's more important to personally network to win contracts, but today's digitally-connected world is proving them wrong. Manufacturers of retail products learned long ago that a good quality, appealing website is a must.
Even if you manufacture visually uninteresting items such as spare parts for washing machines, your leading competitors will have professional photography and web design that show the final products as works of art.
Why Is Your Manufacturing Company Web Design So Important?
Personal networking will always be the vital sales component it has always been, but digital technology – the most powerful communication tool yet – greatly multiplies the advantages of all personal interaction, including networking.
Technology also simplifies business logistics. Companies looking for suppliers – your company, perhaps – are doing their homework online right now. In fact, they are actively trying to find you but you have to be there to be found, and the sole purpose of professional web design is to make you visible and engaging online.
Manufacturing Company Web Design – First Impressions
The first thing your potential customers do, even if your manufacturing company has been recommended to them, is visit your website.  If it doesn't effectively deliver your message and appear professionally designed, then you've lost the power of a top-quality first impression.
Once lost, good first impressions cannot be regained and second impressions – if you get the chance to make them – will never be as powerful in supporting your awareness and sales goals.
Manufacturing Company Web Design – Some Great Examples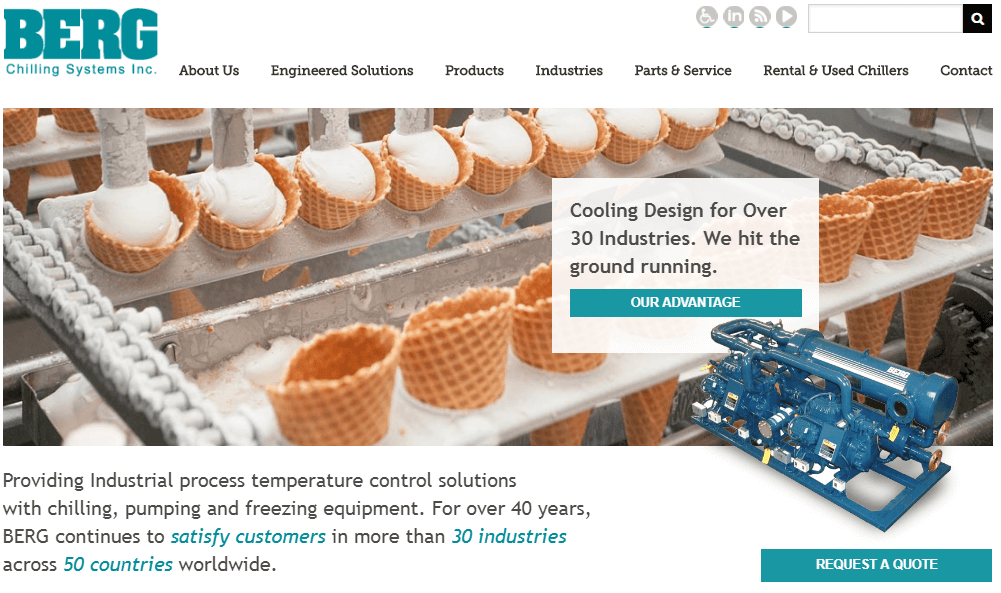 This manufacturing company website creates a great first impression:
Fully branded – in terms of logo, company name and consistent colour palette
Business – it's crystal clear that this manufacuturer provides industrial temperature control solutions
Main image – high impact; you can almost feel the chill factor!
USP – a company with extensive experience in terms of years, global reach and number of industry types
OVERALL – A modern website, great use of colours, eye-catching images and clear messages, all visible above the fold.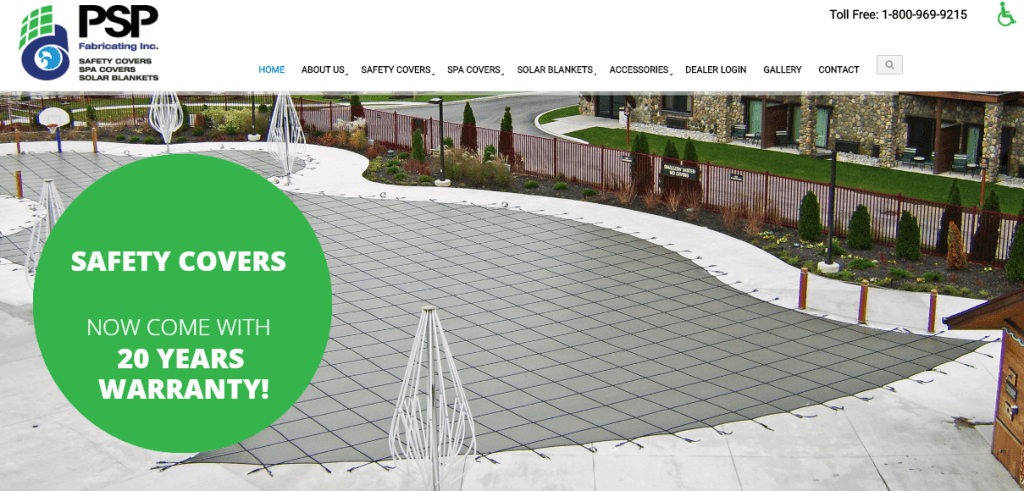 A different design, but also one which makes a great first impression:
Fully branded – in terms of logo, company name and use of the brand green colour as the background for the warranty offer
Business – there's no doubt that this manufacturer sells pools and spa covers
Main image – shows the company's skill effortlessly: the cover fits the unusual shape of this pool perfectly
USP – this company is so confident of its products that it offers a 20 year warrantly
OVERALL – A modern, uncluttered design to showcase the product and the incentive to buy – the 20 year warranty.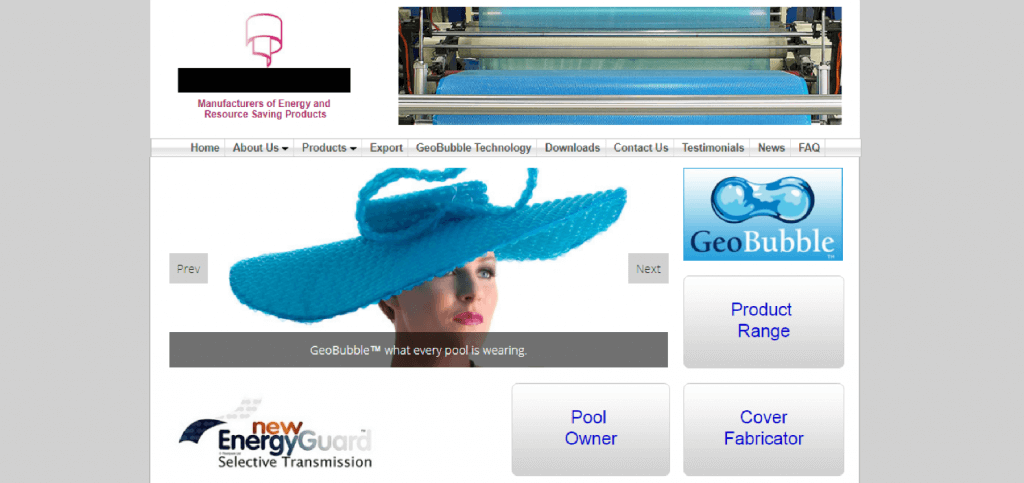 This web design looks dated: the page isn't full width, the images don't complement one another, and the three clickable buttons look large and clunky.
Fully branded – the logo and company name (which we have hidden) are shown, but the maroon colour of the logo is not used elsewhere
Business – is it a supplier of ladies' hats?  Even the top image fails to show that this is a pool cover business. Only by reading the text can you understand what this company offers.
USP – there's no visible message to persuade the visitor to work with this company.
First impressions are poor. The website visitor will leave without appreciating that this company is one of the world's largest manufacturers of water cover products – a fact hidden way in the About Us section, rather than splashed across the homepage.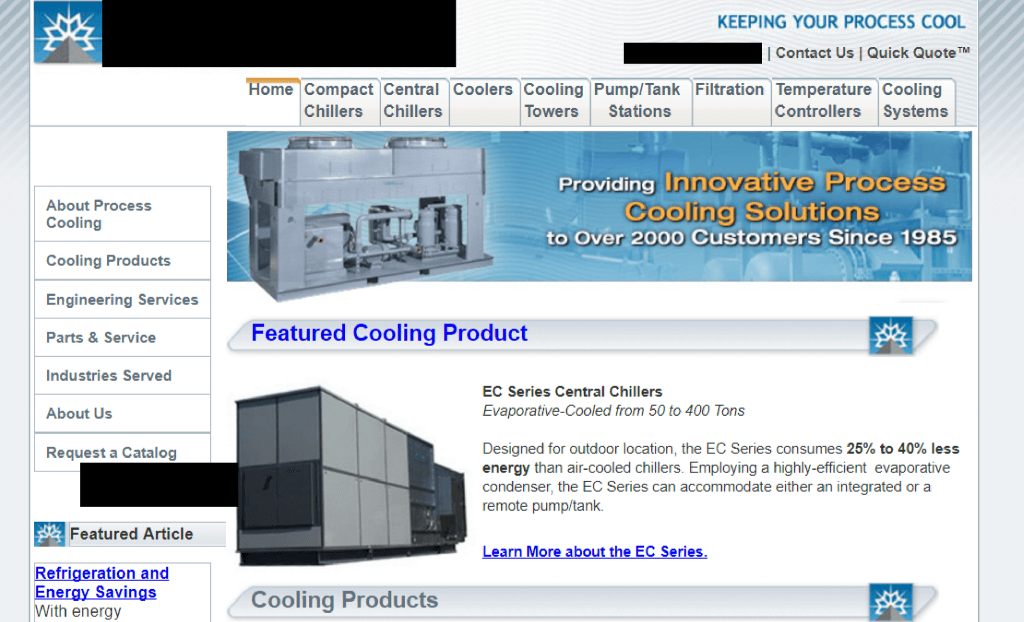 This website is another old fashioned design: it's not full width and has underlined text instead of today's norm – a colorful clickable button.
Fully branded – the company name is shown (hidden by us) and the logo is positioned in random places. The logo blue is not used in the text resulting in a site with a variety of non-brand colours
Business – it is immediately apparent what the company offers
Main image – the top image is far too small to make a big impact
USP – the company's experience is shown clearly at the top
The amateur-looking website gives a poor first impression.  Visitors may well assume the business itself is run in an amateurish way.
OVERALL – If your manufacturing company web design is comparable to the last two examples, you are losing potential business.  Visitors will judge your site as soon as they land on it, and if it looks below par, they will assume your manufacturing company operates below par.
Your competitors, with their professionally designed websites which showcase their products and concisely explain their USP will be winning all the contracts.
Never underestimate the power of a top-quality first impression.  If your manufacturing company web design isn't doing your business justice, it's time to upgrade to a professional website to give  credibility to your business.