In a previous article , we reviewed the importance of having a strong, professional brand to promote financial advisory services, without which it is very difficult to attract new clients.  As with other financial orientated businesses, the brand identity for your life and health insurance business is the fulcrum on which everything else rests.  It speaks volumes about your company, your culture, your products and services, and how you differ from your competitors.  A professional brand development company is needed to produce an effective brand strategy which will define how you present your company to the world, from your logo and business card, to your printed brochures and adverts.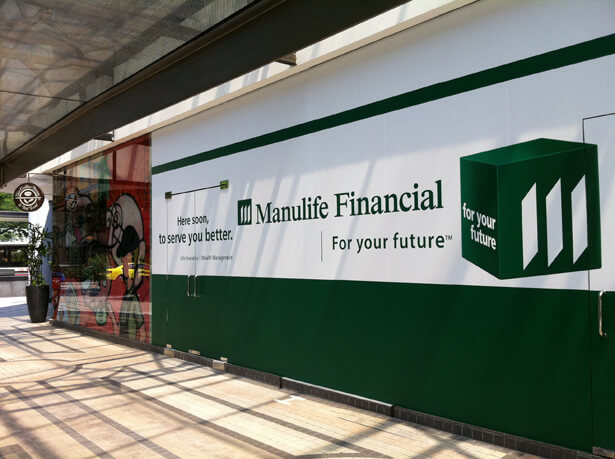 A clear brand identity is also a critical piece of your website puzzle.  When you are in the competitive business of selling life and health insurance products and services, you need more than a "nice" looking website.  You need a website that works: one that impresses potential clients and clearly explains the products you have to offer; one that demonstrates that you are knowledgeable, professional and trustworthy; one that convinces a person to have their life and health insurance policies with you – in short, a results-driven website that leads to a high level of customer conversions.
So let's consider the elements of a website for life and health insurance companies, and how you can ensure that each and every page works hard to sell your brand, your messages and makes clients want to buy your products and expertise.  Obviously you need to work with a professional graphic designer to make the website as visually appealing as possible, but choose a company where the designer is part of a website development company who together can create a website that converts your visitors into clients.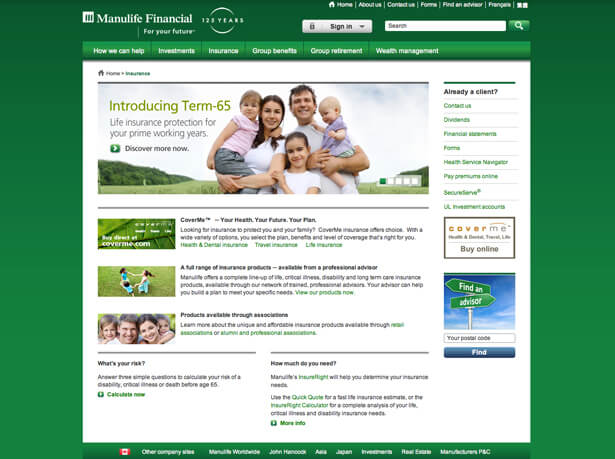 Homepage

:

This is the doorstep to your website and where you must show visitors that you can surpass their requirements.  If people don't like what they see in the first few seconds you have lost them.  The human brain assesses shapes and colors before it has time to read the words so your homepage must send out some key visual messages about your insurance company before the visitor has read a single word.  If the overall look matches their expectations, they will take time to read what you have to say.  So get your website development team to cover the following aspects in their design of your homepage:
Professionalism: 
Without a doubt, the home page must give a professional first impression.  You are selling life and health insurance policies that will have an impact on people's lives.  An amateur homepage will win you no business.  People don't part with their money easily and certainly won't be giving it to an insurance broker or agent who hasn't bothered to design a website suitable for what they are selling.
To create a professional look, the homepage should not be too text heavy – explain in a short and succinct way what services and products you offer.  The summary text and images should be clearly and logically laid out, there must be appropriate use of your corporate colors and the company name and logo should be easy to see.
USP:
You need to get your unique selling point across to customers at the very beginning.  How are you different than your competitors?  As an independent insurance broker you may wish to emphasize that you have access to all policies available on the market.  As a captive insurance agent who sells products from one insurer you may wish to highlight the fact that your insurer is well-known, reputable and has a great track record.  Perhaps you offer a free financial check-up or take pride in the fact that customers can call your insurance agents directly rather than going through a frustrating recording.  Or it may be that you feel you really take time to create tailor-made solutions to your clients' insurance needs.
Whatever it is, this message must stand out proudly on your homepage to entice your visitor to stay on your website and learn more – they need to know how you are different from the rest and that you can deliver the product and service that they want.
Contacts:
Don't make it hard for interested clients to contact you.  Include a clear click-through button on your homepage, and every other page, that goes to a contact form.  The same is true of your phone number – make sure this is highly visible on each and every page.
Once you have gained a visitor's attention, they will move into the interior pages of your website to learn more about your offerings.  Make sure you cover the following information while maintaining your brand identity and being consistent in the design of each page:
Who Are You?
Be completely upfront about whether you are an independent broker, an independent agent or a captive agent.  There are many blogs and articles on the internet which discuss the different types of institutions to purchase life and health insurance policies from and many fall down firmly on the side of one or the other.  So be open, be honest and state if you are completely independent or whether you are selling policies from one specific insurer.  Explain persuasively why you offer the best service for the client.  Clients are far more likely to trust someone with their money and financial wellbeing if that person is being completely frank.
Include your qualifications and experience on the website plus post a photo of yourself.  People always like to know who they are dealing with to put a face to the name.
What Do You Offer?
On a separate page provide a list of your life and health insurance policy types, each of which can link through to a separate page giving more details.  The many policies available make things very confusing for the average person so make it as easy as possible to see what you offer, for example use a simple list with bullet points:
Life Insurance Options
Term Life Insurance
Whole Life Insurance
Universal Life Insurance
Accidental Death Insurance
Health Insurance Options
Critical Illness Insurance
Disability Insurance
Dental Insurance
At first glance the William Avon Insurance Group website appears to focus on giving visitors quick quotes on all of the above, although each request links to a quote request form rather than churning out a price.  The tactic here is to capture a visitor's contact information so that an agent can call and discuss their personal needs on a one-on-one basis.
State Farm Insurance (now Desjardins Agents Insurance) takes a completely different approach and details why life insurance is so important, and each policy type has its own overview on a separate page.
The first approach may work for folk who already have an inkling of what they need, but many people want to understand more about the policy and which offer is the best fit for their needs.  As a rule of thumb, ensure your website navigation appeals to all:  for those who already know what they want, ensure they can head straight to the quote section;  for people who like to read up on the different life and health policies, provide the detailed information on individual pages.  This way you are catering to both types of people:  the skim reader and the eye-for-detail individual.
How Much Does it Cost
?
Cost is an important consideration for everyone.  People want to have a ball park figure of how much they will pay for their insurance. So make it easy for them to get a quote.  If you are able to give an immediate quote consider the approach taken by RBC Insurance which has a quote calculator standing loud and proud at top of each policy page.
Of course a life insurance quote will be influenced by the financial coverage each person requires.  Help your website visitors check the coverage they would need with a simple calculator.  And even though life insurance isn't the most fun topic, State Farm has managed to make this calculation a joy with their online calculator.  Try it out for yourself.
What Do People Say About You?
Improve your art of persuasion by including client testimonials.  Never underestimate the power of recommendations from satisfied clients.   Have a clear section for client testimonials on the website, and pop the best ones on the homepage as nicely demonstrated by Life Insurance Advisor.  As said before, you need to attract the attention of your website visitors from the start, and a great client recommendation will certainly help.  Similarly if you have any media coverage, add an eye-catching link to it from the homepage.
What Do You Know?
Your website is the ideal platform to promote your knowledge.  The more knowledgeable you come across, the more clients will feel they can trust you with their family's financial future.  In today's competitive website age, it is imperative to include great reader-friendly articles on your website, to not only help explain the differences between the policies available to them, but to also keep them updated on changes in the law and general news relating to life and health insurance that would be of interest.
The key objective of your health and life insurance website is to get visitors to convert – to complete a call-to-action step, namely to contact you for more information or to set up an appointment with an agent or broker.  If your website fulfills all of the criteria above, you should be seeing good conversion rates.  But if your rates are lower than you were hoping for, you need to find out why by critically analyzing your website performance so you can make improvements.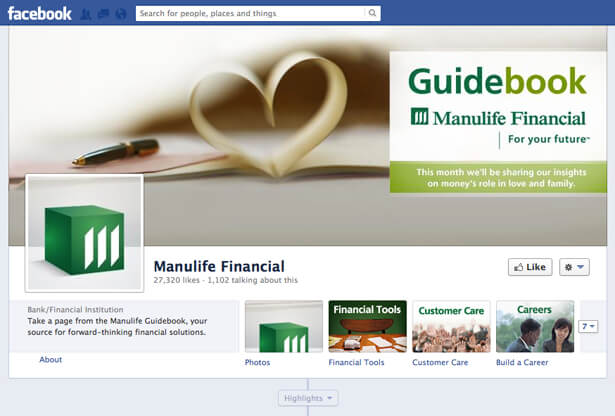 Use some of the many analytics tools available, such as Google Analytics and Yahoo Web Analytics, which can tell you more about the demographics of your clients, how long they spend on each page and how often they return.  By careful review you may discover that few clients get past the homepage, so clearly that needs modification.  Maybe the contact form takes too long to complete and the visitors bounce off.  Perhaps clients love your articles but don't click through to the contact page…. and on review you may find there is no obvious link through button from the article to the contact page! Whatever you discover, modify the website and keep analyzing its performance.
Your life and health insurance website is not a static thing – if it has been carefully designed to cover all the elements above and you regularly analyze its performance, with careful tweaks and updates, you should achieve what everyone wants – a results-driven website.