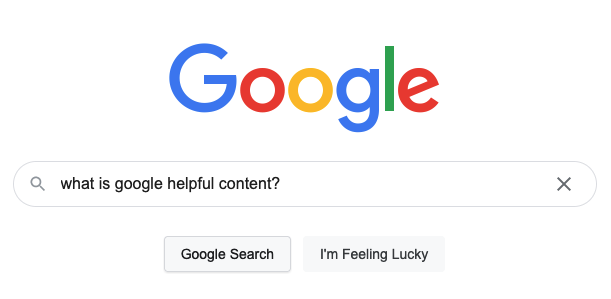 Helpful Content is Now Rolling Out
Google has just launched a new update called Helpful Content. It's goal is to target websites that have a large portion of unhelpful content for the users where the content was primarily only written for search engines. What does this mean? Well, you should be aiming to write the content first to provide your users with useful information rather than optimizing it more for a search bot.
Let's Take A Deeper Dive Into What Will Be Affected
It is still too early to see what will be the exact outcomes of this update, however, we can look into what Google has officially said in the report for some additional insights. Google's main goal has always been to drive relevant results to a user's search. Over the last few years, Google has released a variety of core algorithm updates including BERT, MUM, page experience, and more. Their aim with the new core update is still in line with other updates on providing better results to their searchers.
Google has provided more insight into what they are specifically targeting. In Google's words, they say "content that seems to have been primarily created for ranking well in search engines rather than to help or inform people," is where they are trying to eliminate this from the results. This means if you are writing thin content that is not explaining the actual search term to the level your searches are expecting then you can expect your site to be affected. This is a sitewide update, however, which means they are targeting websites that have a track history of providing poor content rather than a website where they may be one or two thin articles whereas the majority of the articles are well written and thought-out.
How To Prepare Your Website
For the most part, if you are providing well-written content that is useful to your users you shouldn't be worried about your site's traffic. However, it is still a great reminder to go back and make sure that your articles and well written, and if there are any areas where the articles could be expanded to go in and update the page/post.
If you do notice a large drop in traffic you may require large changes to your content strategy and should leverage your in-house SEO specialists or an agency to ensure your content is meeting the requirements of Google.