Marnie MacDougall. Federal Progressive Conservative Candidate. Case Study.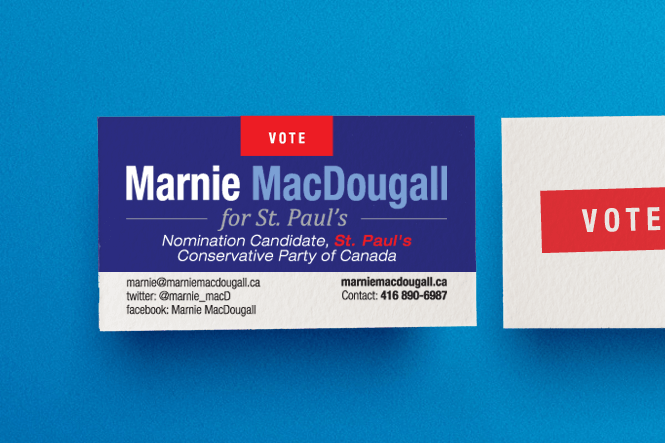 The Background
When Marnie MacDougall decided to run as the nomination candidate for Toronto St. Paul's Riding for the Conservative Party of Canada, she knew she needed good personal branding.  Marnie approached New Design Group to discuss her brand identity with a view to persuade more people to vote for her.
The Challenge
The most important elements of personal branding are to clearly explain a person's core values, their mission, their passions and their strengths.  In relation to politics, the general public also need to know what the candidate will do for them and for their country.  And above all their personality must shine out from their personal brand of they are to attract any attention.
New Design Group had in depth meetings with Marnie to identify what branded materials she required and to learn more about the person behind the future brand.  Key materials designed included:
Business card
Website
Flyers
The Solution
Marnie's business cards were designed for impact – bold blue and red, in keeping with the political party colours with Marnie's name being the key feature along with a simple call to action of 'Vote Marnie MacDougall'.
From the homepage and beyond, Marnie MacDougall's website delivers a powerful punch.  The strong red and blue colour scheme demands attention and the modern and intuitive navigation makes it easy for voters to find out all they want to know about this candidate. The top slider images focus on Marnie, giving voters a view of the person they could be backing and her homepage message is clear about how she intends to deliver on what she promises.  The inclusion of a page dedicated to endorsements is an intelligent way of showing the website visitor that Marnie is a serious contender in the political areana.
The flyer design shows personal branding at its best: a professional photo of Marnie plus well laid out information about her key attributes and her personality, ranging from 'strong & experienced' to 'community activist'.   This flyer is designed in the political company blue and red, and is packed with strong messages about why voters should choose Marnie.  However the professional and attractive design ensures that the placement of the information is easy on the eye and never overwhelming.
Date
2015
Client
Marnie MacDougall. Conservative Party of Canada
Brand
Marnie MacDougall
Industry
Politics
Capability
Logo Design
Flyers Design
Website Design