Blog
Date 2005-ongoing Client Comfort Travel Inc. Brand Comfort Tours Canada Industry Tourism & Destinations Scope Marketing Web development From the client We at Comfort Tour Canada have been using the services of New Design Group for 11 years now. We have always counted and relied on the professionalism and swift turnaround of all our projects. We are mostly impressed with the talent and creative ideas on the design and booking engine. We would definitely recommend New Design group to anyone looking to build or upgrade their website. Sincerely Al Qanun...
read more
Date 2012 Client AME Learning Inc. Brand AME Learning Industry Education Scope Corporate Identity Design Website re-design From the Client After a long, long time of effort and resources, we have finally launched our entire new brand!! Thanks to the amazing design you originated, we created the attached brochures, textbook covers, and email signatures, letterhead and ppt templates, and our finale…our new website. Thanks for the contributions you made to set us in the right direction. Justin Joffe, HBA, MBA President and...
read more
Coming Soon. Date 2015 Client ABC Funds Inc. Brand ABC Funds Industry Financial Scope Corporate Identity Re-Design Funds Identities Design Tagline Development Website...
read more
Date 2015 Client Tannery Creek Systems Inc. Brand AutoChalk Industry Manufacturing Scope Corporate Identity Re-Design Product Identities Design (AutoChalk) Website...
read more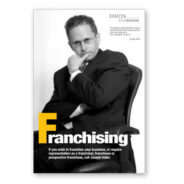 Increase Market Share and Build Your Professional Reputation Attract investors with the right message. The US and Canadian financial industry calls for some flair. Be the best; enjoy increased market share and a professional reputation that stands the test. Corporate identity means more than a flashy logo or the sales pitch you use. Great website design and graphic design can be the difference between average performance, and getting ahead of the competition. So many financial companies and banks forget or have no interest in graphic design or website design but this can prove a huge mistake. Marketing managers within financial companies and banks are increasingly asked to do more with less. Getting the marketing material spot on is easier than you think, as long as you put in the investment early on. Doing some research now and approaching professional website design companies is what is going to set you apart from the rest. Professional graphic design companies are there to help you make your mark. Ask to see portfolios, ask for a quote. Get a feel for what is involved in this investment. And it is an investment: one worth taking seriously. Getting ahead of the competition, increasing your market share and increasing profit rely on getting your corporate identify spot on, so you need the professionals. Professional Reputation Marketing If you are presented with two different websites or brochures, both promoting the same services think about what you would look at, either consciously or subconsciously. One has modern look to the brochure design, corporate colours and a great brand identity. You can see straight away what they are offering, the sort of service or product they will provide. The other website or flyer looks good, but it does not quite have the professional finish of the other one. Individuals are drawn to quality. We like to feel in control. When making important decisions, especially any decision involving financial investment, we want quality and security. This is why the financial market needs to understand the importance of investing in your corporate brand. How you achieve a winning brand will depend on the people you get to help you. So take your time finding a professional graphic design or website design company that will meet your needs. Attract Investors With Flair Logo design is just one way to set you apart from the rest. A memorable logo is a vital brand tool. Your corporate identity relies on many factors and a logo alone is not the one bullet fix, however a good logo can make you stand out.  A bad logo will just leave people feeling flat. There is nothing to make them remember you. You should consult a professional graphic design company and ask what ways they can help you with your logo design or logo re-design and corporate identify. Push for some ideas or examples of past projects and always work with website design companies that you get a good gut feel about. You should be on the same page while still being able to agree to disagree, and listen to each other's ideas. Charm Investors You can be miles ahead of the competition when you present an A-class portfolio. Serious investors are everywhere. Attracting them to you, rather than your competition, means you must invest...
read more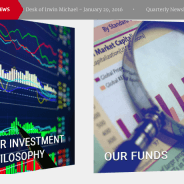 1. Summary ABC Funds is one of the best known financial companies in Toronto. When the company decided to update their conservative website, they want a brand new look to exhibit their professionalism and energy. They needed a website more relevant to today's modern audience and which would provide an engaging experience for the visitor. They choose to work with New Design Group which was the only company they talked to with insight into the world of finance and with proactive ideas about how to reach out to ABC Funds' audience. ABC Funds challenged New Design Group with a tough creative brief: to break new ground in financial web design. New Design Group drew on their extensive expertise in branding, graphic design and creative website development to produce a website that surpassed ABC Funds' expectations: the contemporary website design enables visitors to fully understand the company's philosophy and modern investment style; the up-to-date functionality allows ABC Funds to make regular updates easily ensuing visitors are always accessing current information. – Before – 2. ABC Funds Background I.A. Michael Investment Counsel Ltd is a well-known financial company which has managed ABC Funds since 1988.  Its President, Irwin A. Michael, Chartered Financial Analyst, is known for his money management acumen. He has served as a director of the Toronto Society of Financial Analysts, is a former vice president of the Toronto Futures Exchange and is a much sought-after guest speaker at financial gatherings. 3. The Challenge Irwin A. Michael realized that the existing company website, which was originally created in-house, needed modernization to attract more interest in the company funds. It lacked the image and functionalities that the company wanted to offer to its website users. "Our old website didn't have the energy we wanted to exhibit to people," he said. The company needed a modern, user-friendly experience that would work beautifully across different devices and would be meaningful to customers. Furthermore the website technology required an overhaul: the HTML website was cumbersome to update and a CMS (Content Management System) system was needed. It also needed to have a clearer navigation to sensibly order the enormous amount of information on the existing website and of course had to comply with AODA. ABC Funds approached New Design Group, amongst others, with a challenging creative brief to update their stale website: not only did they want a contemporary and engaging website which would encourage visitors to return time and time again, but they wanted something fresh and new that would make their website stand out in the world of finance. 4. The Pitch When New Design Group pitched for the contract, they didn't just focus on the aesthetics of the website redesign. Led by Director and company founder, Dmitri Logounov, the team took time to research the core mechanics and drivers of the financial field, and to learn more about the target market of ABC Funds ABC Funds soon appreciated that Dmitri fully understood the financial niche and the vision ABC Funds had for the website redesign and for functionalities it would offer the visitor. The website redesign proposal put forward by Dmitri's team clinched the deal. "When we met with New Design Group the lights went on," said Irwin. "Another agency was very much recommended but we didn't feel their vision was...
read more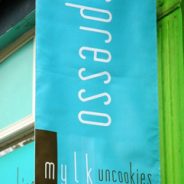 The Mylk Uncookies Branding Case Study – The Nostalgic Case When the owners of Mylk Uncookies decided to open their espresso boutique in Cabbagetown, Toronto, they turned to New Design Group for help with their branding.  The two owners had long dreamt of opening their own business and wanted to do something community orientated.  Being health conscious, they decided that a coffee shop concept with a twist was the way to go. 1.     The Initial Brief When the company owners met with New Design Group's creative team to discuss the objectives for the business, it became quickly apparent that Mylk Uncookies definitely had a unique selling point:  this coffee shop was aiming to specialize in raw and vegan treats in addition to offering non-vegan goodies.  The company name was created to reflect this:  mylk is commonly used in the vegan community for a milk alternative, and when treats are raw, they are definitely uncook(i)ed. Not only was the company name indicative of the products on offer, but the play on words was a deliberate ploy to instill a sense of nostalgia in people who would fondly remember eating their milk and cookies as children. 2.     The Challenges Mylk Uncookies needed a professional brand to make the coffee shop and the products stand out in a market saturated with other cafés, and to reflect the unusual raw vegan treats on offer.  In addition, the location, in a less developed area of Toronto, was well known for discount shops and housing projects and so the brand needed to persuade people to travel regardless of the diverse location. 3.     The Design Requirements Branded business cards, menus, signage and take-away packaging were all required and needed to meet the challenges head on.  New Design Group realized that the clever company name would automatically call out to vegans who would be interested to learn more about the mylk on offer; non-vegans would be intrigued by the play on words.  Therefore the design had to make the coffee shop name stand out proudly from all branded materials, and had to be eye-catching, welcoming and above all, professional in appearance. 4.     The Logo Several different concepts were presented to the client based on their creative brief.   These ranged from a logo showing an ornate spoon in black on white, to a selection of four more modern designs created in turquoise, brown and white – brown for the uncookies, white for the mylk and a bold turquoise to add zest and life to the logo. The owners finally selected the most simplistic of the logo options where the company name was drawn in a simple lowercase font.  Once this format was decided upon the design team made further modifications to create the final designs for a number of branded elements. 5.     The Designs The final designs for the business card, signage, menu and take-away packaging were all very similar to maintain brand harmony perfectly.  The background of the design was created from blocks of colour:  the first being dark chocolate brown and the remainder varieties of turquoise.  The simple font for the company name was maintained along with 'Espresso Boutique' to further stress that the establishment offered coffee and treats in small but comfortable surroundings.  The final result was a colourful, highly professional and striking design...
read more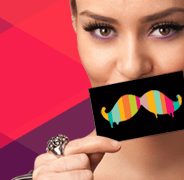 1-844-Colours from Oakville, Ontario, may be a fresh new start-up of professional painting services, but the canny use of a toll free phone number as the company name, and an exceptionally intriguing brand design, suggest that this company has been around for a while. Not many start-ups have the vision to use such a memorable company name, nor the daring to introduce their company to the world with a brand emblazoned with a cheeky, colourful moustache. The Branding Objective When starting out, 1-844-Colours, like all other companies, wanted a unique, catchy brand that would help the company become a household name. It also wanted to show the company as highly professional and able to deliver exceptional service with outstanding results. In short, the brand needed to ooze trustworthiness and make customers want to hire them rather than the competitors. And the owners of this far sighted company had other crystal clear objectives about what they expected their brand to do: • To intrigue potential clients and put a smile on their faces • To be particularly appealing to women, knowing that most painting services in Canada are bought by women Luckily for 1-844-Colours, not only did they have a strong vision of what they wanted from their brand, but they called in the experts at the very beginning. Choice of Brand Development Company The owners of 1-844-Colours chose New Design Group to develop their brand based on the company's strong creativity which was clearly visible in previous brand development projects. They believed New Design Group could transform their ideas and aspirations into an effective brand design that would be hard to forget. The Branding Concepts The company owners were clear about the types of design they liked and also made specific mention that they envisaged a website rich in neutral or dark brown, rustic colours. However a good brand design company, such as New Design Group, will be guided by the client but will not let the brief stifle creativity. Six different concepts were created for 1-844-Colours for consideration, and only one was rich in dark colours. • The first concept was designed around an image of a feather, similar to a peacock's although in pink and yellow, set atop a black background, displaying the bold colours perfectly. • The second concept was completely focused on the company name, with the 'O' of 1-844-Colours designed more prominently than the remainder of the letters. • The third design was based on a gentle rainbow of pastel colours which looks great on a white or black background. • As a contrast to the previous design, this was based on strong primary colours: yellow and blue, and includes a simple illustration of a house. • The next design was truly a multicoloured kaleidoscopic and features the silhouette of a humming bird – a creature associated in everyone's mind with vibrant colour and beauty. • The final concept was the most daring of all – let's call it the Moustache concept. The Moustache Concept New Design Group's Creative Director, Elena Loga, was well placed to understand the company's objectives for the brand: she could appreciate what other women find amusing and as a talented designer, she understood how to create a design to intrigue the viewer. And so for her final concept, she...
read more