Blog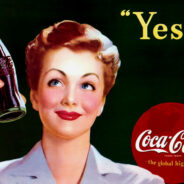 Coca-Cola has pledged to reduce advertising of its products to children under 12 years old in an attempt to help reduce the increase of obesity seen in pre-teens.   Coco-Cola has been the butt of criticism for its sugar laden drinks that many kids guzzle down like water.  While you could argue that the parents should be limiting their children's intake of these calorific drinks and providing them with low calorie, healthier alternatives, Coca-Cola is of course determined to maintain its stronghold on the beverage market. The company has therefore sought to address the negativity associated with its sugary products head on.  At the beginning of 2013, it launched its 'Coming Together' campaign which focuses on how to 'create awareness around choice and movement to help people make the most informed decisions for themselves and their families'. This four step campaign is designed to ensure that Coca-Cola: Offers low and zero calorie options of its many soda drinks in every market Labels all drinks containers with nutritional and calorie information Helps encourage people to adapt healthy lifestyles to lose weight and get fit Does not buy advertising slots that are directly targeted to audiences comprising more than 35% children whether on the TV, radio, in print or on the internet Coca-Cola offers 19 of its top 20 best selling drinks as diet options but these still need to be rolled out so they are available in all markets across the globe.  It has already implemented the front of pack calorie labeling strategy on nearly all of its products, and supports over 280 physical activity programs in over 115 countries.  By making good on its promise to reduce advertising to the under 12's, Coca-Cola will have achieved its four step 'Coming Together' campaign. Many people will applaud Coca-Cola for taking responsible action to help tackle the western world's problem with obesity.  However this is no altruistic move.  If the public wants to drink plenty of soda without gaining weight, Coca-Cola is going full steam ahead to ensure it is the company to meet their needs – and to retain its title of biggest beverage company in the...
read more
12th May – NDG Website news blog YouTube is finally offering a subscription service to over 50 video channels including Kids' channels such as Baby First Plus and National Geographic Kids, and others that will appeal to a wide cross section of the adult population: Cars.TV, Comdedy.TV, GayDirect, PRIMEZONE Sports and MyDestination.TV. This is a long awaited move and Google has never been shy about discussing its desire to test the success of paid channels.  Channel creators can set their own subscription fees with monthly subscriptions starting at $0.99, and can accept advertisements on their channels. The revenue generated will be split between the creator and YouTube:  55% to the channel creator and 45% to YouTube as a hosting fee. The initiative will be tested in 10 countries initially and all users who subscribe will benefit from a 14 day free trial, and will receive discounts for annual subscriptions. So what impact might this have on cable and TV operators?  Many people automatically turn to the internet to search for what they want to see, and the 1 billion monthly YouTube users are testament to this. If the YouTube subscription service takes off, it could be a real threat to traditional TV and cable.  But will people be willing to pay for an additional service when they are already shelling out for their TV and internet services?  If people don't choose to pay, then the subscription-only channels won't get the publicity and revenue they hope for.  But if subscription charges are kept sensibly low then many people may just pay out a few extra dollars per month. Until this new service gets established and the statistics are available for review, we will just have to sit back and wait to see. Interested partners can sign up for the subscription service for their own channel to look at generating more revenue from their YouTube...
read more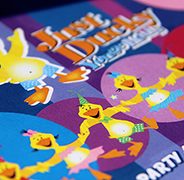 The Objective: Just Ducky Yonge Kids came to us in 2006 looking to attract local preschool children and their parents in the Yonge and Lawrence neighbourhood. Nancy Schmeler, the founder of Just Ducky Yonge Kids, wanted to build the leading Indoor Playground and Entertainment Centre in Toronto and realized that an eye catching, bright and playful brand identity was needed to accomplish her goal. The Challenge: New Design Group Inc. had to design a character that would represent the Just Ducky Yonge Kids brand. How do you create a character that conjures images of fun and creativity to the preschoolers all the while triggering images of safety and fitness to their parents? Just Ducky Yonge Kids needed a mascot that could represent all of the different programs they had to offer, ranging from martial arts, cooking classes and fairy princess tea parties to pre and post natal fitness and yoga classes for the parents. A recognizable and cohesive brand identity was necessary to showcase all that Just Ducky Yonge Kids had to offer their clients. The Solution: The Just Ducky Yonge Kids mascot was designed keeping in mind that this image had multiple purposes and would be showcased in many different ways. It was appropriate for all marketing materials – the logo was featured on flyers, outdoor signs and brochures. Just Ducky postcards were sent out and newsletters were designed showcasing their mascot proudly. Residents of the Yonge and Lawrence area frequently see the "Duck Truck" and instantly think of a safe, clean, and bright environment where preschoolers can be creative and develop their skills. The Just Ducky Yonge Kids website was designed to be easily navigated and engaging for all ages and includes an online shopping cart so that parents can purchase their favourite Just Ducky Yonge Kids products from the comfort of their own home. Date 2007 Client Just Ducky Yonge Kids Inc. Brand Just Ducky. Industry Kids Scope Character Design Logo Promo Materials...
read more
  If you think social networking means hooking up with new friends on social media websites or working the room at a party or conference, think again.  Two beer manufacturers are at the forefront of new technology which makes sharing comments on Facebook seem dull and uninspiring; these companies aim to make to social networking face-to-face a more fun and interesting experience. Budweiser Brazil has recently introduced 'Buddy Cups' which enable people to connect on Facebook just by toasting one another.  When the cups touch, the microchips at the bottom of the cups connect and the two drinkers become friends on Facebook. All the user has to do is activate the cup and link it to their Facebook profile by scanning the bottom of the cup via a smartphone app.  When the drinkers toast one another, the cup lights up – and hey presto – another new friend is made on Facebook. The long term plan and roll out of Buddy Cups to new markets has not yet been defined but this technology is definitely a great way to break the ice and make new Facebook friends.  However as with all these great ideas a word of caution is in order.  Drinking Budweiser may loosen inhibitions and encourage the drinker to toast everyone they meet, regardless of whether they would have chosen them as a Facebook friend under other circumstances.   And who would you trust to watch your Buddy Cup when you go off to dance or powder your nose?   Would other drinkers be tempted to clink your cup if it was left alone for a while? The Budweiser Buddy Cup may be fun, but I foresee many people waking up the following day with a sore head and new friends on Facebook whom they have no recollection of ever meeting in person! Perhaps a safer option for having fun on a night out but not giving too much of yourself away to total strangers is the Heineken Ignite beer bottle which is aimed at clubbers.  This ever so smart, futuristic beer bottle lights up in response to sound and motion.  It contains micro-sensors and wireless networking technology and when someone drinks from it, the LED light spins; when a crowd cheers, it sparks; when left alone it has a little snooze unless it has been programmed to be activated by the club music. All terribly clever stuff.  The Heineken Ignite beer bottle was launched at 2013 Design Week in Milan at the beginning of April and was collaboration between the beer manufacturer, Tribal DDB Amsterdam and several other partners.   Tests are still underway to determine if this prototype should be introduced into the market place. But it's fair to say that Heineken definitely achieved their objective of creating a memorable Heineken experience using mobile innovation and...
read more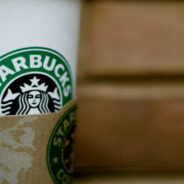 Following in the footsteps of the 'suspended coffee' projects seen in Italy and Bulgaria, Starbucks UK is the first British café chain planning to launch its own 'suspended coffee' initiative. The suspended coffee idea was born in Naples where customers were able to purchase their own drink and at the same time reserve one for a person who couldn't afford to purchase their own.  In doing so, they knew that their essential coffee break was not merely for their own good but was helping others in a small way. Starbucks UK is approaching its suspended coffee project slightly differently – each person who buys a coffee can reserve one for a homeless person, and Starbucks UK will match the value of the beverage purchased.  One purchase therefore equates to two donations of the same value.  The recipients won't be popping into Starbucks to claim their free coffee – the donations will be managed via the non-profit charity Oasis who will manage them through its normal channels. News of this initiative is bound to be well received by homeless charities and Starbucks UK will be seen as a shining example of how a successful business can give something back to the community. However one can't help but wonder how much the Starbucks PR department pushed for this after the tax scandal last year.  In December 2012 it emerged that Starbucks UK had paid less than 1% in corporation tax on its £3bn sales since 1998. The company claimed to have made a loss in the UK because payments had to be made to other companies in the Starbucks group outside the country.  At the same time, the executives were telling analysts that the UK business was successful.  Unsurprisingly this situation was poorly received in the UK. Whether the Starbucks UK suspended coffee project is driven by pure altruism or an astute public relations department will be impossible to prove.  However if the homeless benefit and the publicity surrounding the project encourages more big names on the high street to follow suit, it is clearly a win-win...
read more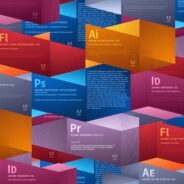 Adobe recently commissioned an online survey of over 1000 US managers who use contracts in their business, to assess their attitude to paper in the workplace.  On the whole they were all against it, preferring digital processes.  It seems managers resent the time spent by staff on paper shuffling, copying and filing, and feel that digitally based systems make work flow easier and far more effective. Efficiency Over 50% of the managers surveyed said that digital processes make documentation management more efficient and over 60% believe working digitally helps reduce costs. Security Furthermore a digital approach is believed to be more secure.  Paper contracts can be tampered with and 60% of managers feel that digital documents that are password protected are the safest option.  In addition there is always a danger of paper documents going astray – 56% are fearful of losing that all important paper contract. Environment Unsurprisingly the managers all cited the environment as another key driving force to having a paperless business, with 71% of respondents stating digital workflows show a strong environmental conscience. But here comes the sting in the tail.  For all the positivity regarding a paperless workplace, only 2% of companies use no paper at all in their business transactions involving contracts.  So all mouth and no action it seems. However many managers said they would be very interested in having digital tools at their disposal to help their transition from paper to digital processes.  These included the use of an eSignature service and an automated Web contracting tool designed to track contracts, enable them to be electronically signed and to assure their security. Interestingly the survey makes no mention of the Adobe EchoSign product which is a web contracting and e-signature product already established on the market.  One can only assume with so many managers clamouring to convert to digital processes that Adobe quickly went back to these qualified leads to make their pitch! To read more about the study:  "Paper: An Endangered Species?" click...
read more
Here's a date for your diary if you have an interest in high fashion which takes creativity and engineering to a new high.  Between June 21st and September 15th 2013, the Christian Louboutin Retrospective will be exhibited at Design Exchange in Toronto. Iconic French designer Louboutin is known for pushing the boundaries when it comes to designing fashion footwear and modern handbags.  He is mainly famous for his exquisite, teetering stiletto heels with their signature red lacquered soles that women can't help but adore – these shoes ooze charm, sophistication, femininity and high glamour. Over twenty years of designs are going to be exhibited at Design Exchange including his sky high heels, spiked platforms, bejeweled pumps and snazzy sneakers.  But the exhibition isn't all about the finished product.  The goal is to explain to the audience the design methodology of this master craftsman – from the initial sketches and selection of raw materials to the creation of the finished shoe – how art meets fashion meets engineering.  And how the mastermind is involved with the production of his shoes every step of the way: from prototype right through to factory production. Louboutin, with little formal training, has definitely risen to the top of his trade – his company has topped the Luxury Institute's annual Luxury Brand Status for three years, winning the title of 'Most Prestigious Women's Shoes' in 2007, 2008 and 2009.  He has a high number of celebrity clients including Lady Gaga, Joan Collins, Madonna and Jennifer Lopez, and with price tags of over $2500 not uncommon for a pair of glitzy heels, it's no surprise that the celebrities are flocking to buy them. In the retrospective exhibition, the inspirational sources of Louboutin's creativity will also be explored and these include film and architecture in addition to his travels which have taken him far and wide during his career. Shauna Leven, President of Design Exchange is delighted to be hosting this prestigious exhibition and feels it gives Canadians a unique insight into the creativity and processes behind this luxury brand. For more information, visit the Design Exchange website and check out details in upcoming exhibitions.  http://www.dx.org/ ...
read more
If you're planning a new start-up, have you worked out the fine details about where you're going?  If you aren't sure about your aims, your plans, your target market and your branding strategy, success will be a hard beast to master. How do you intend to persuade customers to choose your products above all others?  Without a clear plan of action you are in danger of launching a mediocre start-up that is never destined to take the world by storm. To launch a commercially successful start-up, there are a number of key questions that you should be asking yourself well before the intended launch date.  The answers to each will help you formulate your plans and strategies going forward so that your start-up has every opportunity to be noticed, to flourish and to be lucrative. What is your mission? What are your top three goals for your start-up? Do you know where you want to be in five or ten year's time?  Individuals set themselves goals as something to aim for, for self improvement, to give purpose to their life and to keep them motivated.  Stagnation is the root of dissatisfaction for many people.  But when they realize they can achieve their goals they are spurred on to take up the next challenge. Your start-up should be no different.  Clarify your goals and your aims over the next five to ten years.  Be realistic but aim high – you will only underachieve if you don't push yourself.  Then monitor your company's performance, bask in success when you accomplish a goal and modify your goals so they move with the trends relevant to your industry. How will you brand your start-up? Your brand is how you communicate and connect emotionally with your customers.  The brand has to differentiate you from your competitors – a strong brand stands head and shoulders above the rest.  The perception of a brand dictates how successful it will be. Branding your products is how your company builds awareness and increases customer loyalty.  In today's world of excessive choices, people choose to buy by brand.  They become diehard fans of certain brands, trust them and seek them out in preference to others. A branding strategy must be developed for your start-up to achieve success.  It must be endorsed from the top down and its importance must be embraced by every single employee.  It's essential to work with a professional brand development company who understands how to develop a brand, how to design a brand and how to make your brand talk to your target market. Who is your target market? If you haven't firmly defined your target market you won't be able to market your products or services successfully.  Take time out to consider who your customers are so you can plan how to get your brand in front of them at every opportunity.  If your target market falls firmly into the under 40's, you may choose to make social media a pivotal part of your branding strategy.  If your start-up offers holidays for the over 60's then traditional brochures may be more suitable. Does it make sense to specialize? Keeping your brand focused on one area helps make it stronger.  If you are in the travel industry and launch your company with the aim of...
read more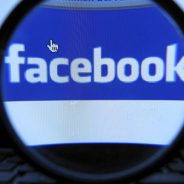 At the end of 2012, Facebook launched a new tool in the USA enabling users to send messages directly to the inbox of non-friends by paying a fee.  Normally messages to non-friends get directed automatically to the 'Other' folder which may well get overlooked by the recipient.  This system is now being trialed in 36 countries. The media have taken up the story with enthusiasm and have focused on how this enables people to send messages to the inbox of their favorite celebrities.  In a celebrity obsessed culture this idea may appeal to many – particularly those from the younger crowd who just want to connect with someone famous – anyone really, just so long as they are famous However Facebook users who wish to get the attention of their fav celeb may have to mull over the odds – the more popular the person, the more they pay to get their message into that coveted inbox.  The price of celebrity messaging depends on how famous the celebrity is – measured by the number of followers the celebrity has on Facebook and how many paid messages they have received. In the UK, rates for specific celebrities are still being tested in selected markets and are not set in stone, but one imagines that a few of the lovvies of the celebrity world will be unimpressed if their messaging rates are ridiculously cheap.  Here are a few examples of UK message rates: Snoop Dogg, rapper and Salman Rushdie, author – around £10 per message Nick Hornby, author – around 70p per message Facebook should be making a nice little profit from this as they will be keeping all the revenue for themselves – the celebrities won't receive a dime.  For some it's a hard pill to swallow when Facebook has always stuck to its guns and stated that 'Facebook is free and always will be'…. clearly until now that is. Even if you applaud Facebook for creating a new opportunity to bring in more income, think a little harder about the implications – paid messaging is a bit of a sneaky trick for the average Joe.  It means that people and companies can simply override your privacy settings and start to send you messages directly to your inbox so long as they pay up to Facebook. Facebook insists that this initiative prevents people from being bombarded with messages from strangers and will facilitate the delivery of only relevant messages.  However with this new tool, anyone who is prepared to pay the fee can message anyone outside of their circle of friends.   And that sounds like a very sneaky trick to...
read more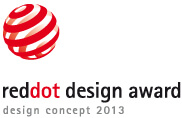 The standard submission period for this prestigious award may have closed on April 17th but all is not lost.  Budding and established designers can still submit their design concept up until June 19th, although only in English. A level playing field for all If you are a design student, established freelancer, university or design studio, get your application ready.  The Red Dot Award accepts entries from everyone, and furthermore each is judged totally and utterly on its own merits – during the adjudication process the jury has no idea about the background of the participant. History The Red Dot Award has been in existence since 1955 and has expanded over the years.  In 2012 it received more than 15,000 entries from 70 countries. It's a huge competition but someone has to win!  If you are interested in entering one of the world's best known design award competitions, then get your application finalized. Winners Winners of a Red Dot Award will get plenty of recognition worldwide.  It is an endorsement of your design innovation and skills and tells the rest of the world about your strong capabilities, promoting your name or your company name and increasing brand value.  In addition the winning designs are exhibited at the Red Dot Design Museum in Singapore for a year, and there are online exhibitions, travelling exhibitions and plenty of media attention.  It really is a highly coveted prize to win. Categories For 2013 there are a number of concept categories including new-for-2013:  Interaction (such as user interfaces and digital games), Skin (packaging or product surface), and Service (bringing benefits to the use of a product, space or service), in addition to previously established categories: Energy, Green, Habitat, Illumination, Fashion and Workplace amongst others. The Red Dot Award is prestigious, open to everyone and the winners are assured of excellent publicity around the world.  If you believe you have the design concept skills to make the judges sit up and take notice of your work, then submit your application soon.  For more information about the award, check out the red dot award website. ...
read more