Blog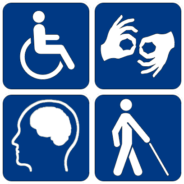 If you have a company that operates out of Ontario, it is mandatory to comply with AODA:  the Accessibility For Ontarians with Disability Act.  This law was passed to ensure that people with disabilities face no barriers with regards to accessing activities and opportunities.  And this law covers websites.  As more reliance is placed on the world wide web to source information, AODA recognises that disabled people should be able to access information as easily as others. The AODA Website Content and Accessibility Guideline (WCAG) explains how companies can achieve a website that is accessible to all, regardless of any physical disability they may have. WCAG outlines four main principles of creating an accessible website: Perceivable:  so users can perceive the information displayed Operable: the user must be able to operate the interface Understandable: users must be able to understand the information Robust: even as technology advances, the website content must remain accessible Interestingly these are sound principles and should apply to every single website.  So before you start to fret about the website alterations you need to implement to comply with AODA, appreciate that a website which is more accessible and user-friendly for those with a disability, will also be more accessible and user-friendly to all.  And by implementing any necessary changes, you will be expanding the number of people who can view and interact with your website. AODA has been mandatory since 1 January 2012 for private companies and failure to comply can result in hefty fines – upto $100,000 per day for corporations!  So without further ado, let's look at the main areas of WCAG: Text Alternatives: for non-text sections, provide alternatives such as larger font, simpler language, symbols or audio descriptions. Time-based Media: if you have video content, provide audio-only versions.  For audio commentary, provide a text back-up. Adaptable: ensure the website adapts to the user's capabilities.  This can be achieved by presenting the information in a simpler layout while retaining the same content and structure. Distinguishable: don't use a font size lower than 14 points and provide good contrast between the text and background for easier reading.  Avoid fancy fonts that might make reading difficult, and make links and controls highly visible. Keyboard Accessible: your website must be operable using a keyboard alone.  This is very important for users with reduced motor skills who struggle to manoeuvre a mouse accurately. Enough Time: rotating banners and images may look nice but can be problematic for those with reading disabilities.  Allow users to delay the time on this feature, or turn it off completely by simply clicking a button. Seizures: any flashy element that can cause seizures is not allowed.  If you want flashing areas, make them small and ensure the flash frequency is less than three per second.  Your visitors need to be safe on your site. Navigable: the navigation of your website should be logical and simple.  Make links stand out and reduce the number on any one page to ensure the user doesn't feel lost in a maze.  They need to intuitively find their way to the information they are seeking. Readable:  use common and easily understood language. Avoid foreign phrases or complicated paragraphs.  Break up chunks of text with bullet points and underlined headers.  Avoid placing text over patterned backgrounds which...
read more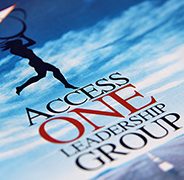 The Background Access One Leadership Group is a professional company offering Executive Leadership Coaching to help individuals realise their full leadership potential.  When the company approached New Design Group they wanted a complete brand identity including logo design, brochure design and website design. The Challenge The company wanted a strong and inspirational brand identity which would make people seriously consider how close they were to achieving their life's objectives.  In turn it then needed to persuade these potential clients that life coaching would enable them to realise their potential. The Solution New Design Group created a logo design featuring the company in big bold letters in strong black and red.  The logo also features an athletic female silhouette holding a hoop aloft, like some Greek goddess, with a red arrow head shooting through it,  The final design is bold, draws attention to itself, and the arrow shows that the best way is forward. Unsurprisingly this fantastic logo is a significant feature of the brand identity.  It is shown on top of an image of a wide open road and bright blue skies – all conveying positivity about a journey yet to begin.  If also features prominently on the homepage of the website design, and is accompanied by strong messages in easy to read boxes, and images of people climbing or looking up or doing seemingly impossible athletic leaps. In summary this is a website that inspires the visitor and persuades them that they too can improve their lives by enrolling on professional life coaching. Date 2006 Client Access ONE Leadership Group Inc. Brand Access ONE Leadership Group Industry Business Consulting Services Scope Logo Design Brochure Design Website...
read more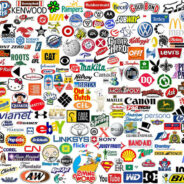 When starting up a new business, a realistic budget must be set for branding and marketing – without which the company will be essentially invisible in a sea of stronger competitors.  The most fundamental requirement for any brand is its logo – it forms the basis of the brand's visual identity. A logo should be designed to draw attention to it and to be memorable.  With time the logo can become synonymous with the company in the customer's mind.  The logo will dictate the overall look of the company's printed materials and website which must be skilfully designed to retain brand harmony throughout. When defining a branding and marketing budget, a start-up needs to know how much the logo design will cost.  This depends on who is tasked with the job – and in turn this impacts on the quality, originality and acceptability of the resultant logo, and its potential for success in the marketplace. Amateur Logo Design a) Use a friend Most people know someone who claims to be a whizz kid on Photoshop or another design program.  They may be kind enough to create your new company logo for the price of a beer.  How very tempting.  But before you take them up on this offer, seriously consider what they may come up with.  They may create a nice image, but will it capture the essence of your business? Will it be unique?  Will it be timeless?  How will it compare with the logos of your competitors? b) Outsourcing Various websites provide the services of individuals who offer to create logo designs, for example fiverr.com, which is understandably popular as work costs from just $5.  Take a look for yourself at some of the logo examples that are supposed to tempt you to purchase that person's services.  Do the logos look professional?  Would you be proud to display them on your company's marketing material? c) Crowdsourcing By running a competition to design a logo for your start up you may imagine that you will get hundreds of entries and one is sure to be just perfect.  However people will only enter if the prize is right – and how much money are you prepared to offer?  Do you really want to spend your time sifting through all the entries?  Remember that the majority of applicants will be amateurs hoping to win so they have something to put on their design portfolio; great professional designers are unlikely to enter as it wouldn't be worth their time – and they already have clients clamouring for their services. The principal advantage of using an amateur to design your company logo is the cost.  On the whole you can pay just peanuts.  But what will the final result be?  It may look unprofessional which will raise a red flag to a potential customer – if a company doesn't appear qualified on paper or on its website, the customer will imagine that unprofessionalism extends to the products and customer service.  The logo may not be scalable – perhaps it looks great on a business card, but can't hold its own on a large billboard advertisement.  The logo may be a lookalike logo that will just confuse the viewer: And probably worst of all, the logo may send out the completely wrong message...
read more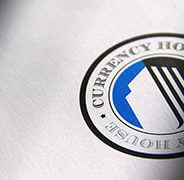 Date 2009 Client Currency House Inc. Brand Currency House Industry Financial Scope Logo Design Website UI...
read more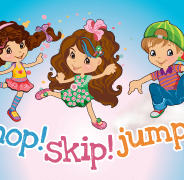 The Background Hop! skip! jump! is a new children's indoor playground located in Halifax, Nova Scotia.  In fact it is the largest in the Province. When the owners were looking for a company to create a strong brand identify for the business, they identified New Design Group as the agency they wished to work with.  Having designed children's company brands in the past, including names such as Koala Kidz in Vaughan, Just Ducky Yonge Kids in the Yonge neighbourhood of Toronto and Yes I Can Nursery School, also in Toronto, it's fair to say that New Design Group knows how to create a children's brand that appeals to parents and kids alike. The Challenge The owners of Hop! skip! jump! came to New Design Group with some clear ideas about their new brand and logo design.  As parents they wanted to dedicate the venue to their own kids and were keen to somehow incorporate them into the logo design. They also needed a complete set of branded marketing materials, from business cards to birthday party invitations, in addition to a modern website and a social media presence. The Solution As with all brand strategy discussions with clients, New Design Group provided a questionnaire to the company which would form the basis of the creative brief.  Once clear about the branding objectives, the graphic design team created 3 concept sets of the future brand identity materials, each containing a unique logo, business card, letterhead flyer, card and signage design presented on a storyboard. As with all children's industries, the visual brand identity had to charm both kids and parents and to clearly demonstrate what the brand was all about – bright colours and cute characters were the order of the day. Logo Design: The final logo chosen was of 3 colourfully dressed kids jumping around having the time of their life – the 3 were modelled on the faces and personalities of the owners ' children.  This logo was carefully designed to be scalable so it would look great on outdoor signage as well as on birthday invitation designs. Business Stationery Design: The logo was incorporated into an electronic letterhead, business card, electronic fax cover sheet and a customised email signature allowing the company to portray itself as trustworthy and professional in all business dealings. Promotional Card Design: As part of the marketing materials package, postcards were created to be used to promote different occasions such as the Grand Opening.  With a character based logo, the graphic designer has the opportunity to show the characters involved in a range of different activities as this design demonstrates. This is an important branding strategy and one which works particularly well for kids' organizations – it further reinforces what the company offers whilst maintaining brand consistency. Birthday Party Invitation Design: kids indoor playgrounds are ideal venues to host children's birthday parties.  The provision of colourful and fun branded birthday invitations to parents shows Hop! skip! jump! as an organised and efficient company, with the added benefit of increasing brand awareness amongst other families. This design also includes the social media page addresses to encourage people to engage with the company via any of these. Other Promotional Marketing Materials: Hop! skip! jump! wanted a simple discount card design to persuade people to bring...
read more
EMA Partners: EMA Partners is a results-based executive search firm committed to identifying and developing relationships with senior managers and executives who exemplify extraordinary management capabilities, exceptional business acumen, and who possess the drive to succeed. Theк style is personal, and our approach is client-focused. The goal is to establish long lasting relationships with our clients, and to continually and consistently bring "best in class" talent and leadership to their organizations. Date 2015 Client EMA Partners Brand EMA Partners Industry Executive Search Scope Brochure Design Print...
read more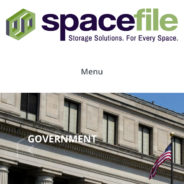 In Canada the use of mobile devices such as smartphones, iPads and other tablet computers has seen a huge increase over the past year.  It has been estimated that by mid 2014 the number of mobile devices will exceed laptops and desktop computers combined.  As people are getting more comfortable with their devices, they are no longer limiting their use to checking the weather, reading the news, logging into Facebook and making the odd voice call; Canadian statistics show that more and more owners are turning to their trusty mobile to browse the internet and to shop online.    Advantage To Businesses This is music to your ears if you're a business owner with a great website.  If people can surf the net on-the-go and aren't restricted to specific times in front of their desktop, they'll have plenty of opportunities to find your website.  Good news for you, the business owner.  It's also great news for the customer, who can consult the internet to find out what they want when they want it. The User Experience However give a thought to the kind of web experience you're offering the mobile user.  Will they have to zoom in and out to view the web pages if they access your website from their device?  Will the web pages look as good on their smartphone as on a laptop?  Will the customer be able to easily find out what they want to know? If your website was designed for a desktop and doesn't have a responsive design, the mobile user will find your website confusing to read and navigate – it just won't adapt to a smaller screen.  And of course no one will battle to read what you have to say and offer.  The mobile visitor will give up on your website if it can't be used intuitively on a smartphone, regardless of how stunning it might be on a laptop. The only solution if you want to retain customers and generate sales is to have a responsive web design which can be easily viewed across multiple platforms.  This way the user will have an optimised online experience from whatever device they use to access your site.  And customers who have an excellent online experience will stay awhile, browse around and be more likely to contact you or buy online. Responsive Website Development A responsive web design offers the viewer easy navigation and simple reading without the need for excessive zooming and scrolling whether the pages are viewed on a smartphone, tablet, laptop or desktop.  In short the website is intelligent enough to resize itself and actually alter the page's layout to suit the device it is being used on.  This is achieved by smart website developers who can make a website in 4 columns on a large PC self-simplify down to 1 column on a smaller device.  Developers can also ensure the website detects the type of device it's being viewed on – and then in the case of a touch device, can enable an option to allow the user to simply swipe between columns. Don't Get Left Behind Companies who have implemented responsive websites are rightly delighted with the results.  However this proactive approach is not being embraced by all:  many e-commerce companies and service providers have failed to...
read more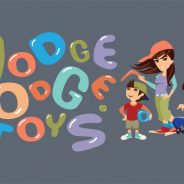 The concept of this toy store is to be an all inclusive toy store which facilitates to babies, children, teens and adults. Inclusive also in catering to the needs of children with special needs, so parents feel comfortable shopping with their child/children in a one stop shopping experience. SUSTAINABLE, RESPONSIBLE, EVERGREEN FUN   Date 2015 Client Hodgepodge Toys Inc. Brand Hodgepodge Toys Store Industry Children Toy Store Scope Brand Identity design Characters Development Promotional Materials Design Signage Website...
read more
  The Oreo brand is over 100 years old and is the biggest selling cookie in the world with sales that top $200 billion a year.  That equates to a mind boggling number of cookies! But the company felt its brand presence was not living up to its stature and so has just released a new marketing campaign called "Wonderfilled".  It is being cited as the Oreo brand's most ambitious move to date and is seen as a strong push to get the brand the recognition it deserves – on par with the iconic brands of Nike and Coca-Cola. The cartoon campaign is targeted at adults with the objective to remind them that the world is full of wonder.   It shows how stereotypically nasty cartoon characters such as the Big Bad Wolf, a bat-like vampire and a fierce shark can be simply changed into sweet, loving beings after receiving an Oreo.  The underlying message is that those gorgeous, ever-popular cream filled cookies can change the world for the better. This campaign was launched on TV during an episode of AMC's Mad Men with the aim of getting high exposure to adults. It's a lovely cartoon but at first viewing it is a surprise that Oreo chose a cartoon of nursery rhyme characters to increase brand awareness in adults.  But perhaps that's the beauty of the campaign – it's certainly very different and boy is the song catchy – after viewing it only two or three times, you're destined to be humming the song to yourself for the rest of the day. And as with any marketing campaign, the proof of the pudding is in the eating.  After the cartoon was posted on YouTube, it received more than 250,000 views in only 5 days!  So let's wait and see – and who knows, maybe this is a genius branding angle and the Oreo brand will be associated with wonder for ever more. ....
read more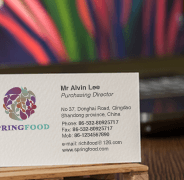 The Background Spring Food was a start-up based in Hong Kong when this fish manufacturer and trader needed help with their brand design they approached New Design Group. The Challenge Spring Food wanted an eye-catching brand which would make it stand out from its competitors.  A logo, website design, stationery, vehicle livery and packaging were required. The Solution New Design Group created a stunning logo based on a collection of water droplets to not only reflect the aquatic nature of the business but also that water provides nutrition which sustains life.  The choice of purple hues was deliberate chosen to send out the message that the company provides luxury, top quality products – purple being subconsciously linked with these attributes in people's minds.  Beneath the abstract image the company name is clearly shown. Once the logo was approved by the company, New Design Group created the other required elements on built on the purple colour scheme and eye catching logo. Date 2014 Client Spring Food China Brand Spring Food Industry Food Capability Logo Design Website...
read more